Most of us love to travel, but the costs of flights, accommodation, restaurants, local transportation and entertainment can put a real damper on your wallet. Let's explore several methods that will stretch your travel budget.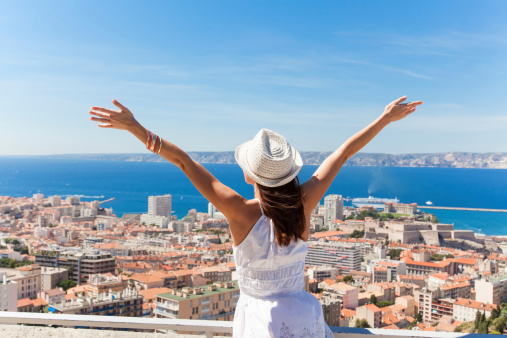 1. Cutting your flight costs
Getting to your far-away destination will be one of the biggest items in your travel budget. Booking in advance can save you a significant amount of money; book two to three months in advance for US domestic flights and five to eight months in advance for international destinations. Tuesday is considered to be the best day of the week for getting good prices on flights. Avoid paying peak prices for traveling on Fridays and Sundays; instead, choose mid-week departures and returns to get the best deals.
Try to avoid air travel during holidays and high-travel times. Flights tend to be significantly more expensive during the summer holidays, Thanksgiving, Christmas, New Year's and Spring Break. Take advantage of frequent-flier programs or airline co-branded credit cards, which may even give you a substantial sign-up bonus. Consider flying in and out of secondary airports. You can also use price-tracking or price-comparing apps such as Yapta, Airfare Watchdog, Skyscanner or Kayak.
 
2. Stay for less
There are many creative ways to save money on accommodations. Hotel metasearch engines or bidding sites such as Trivago.com, Kayak.com, Room77.com or Priceline.com can save you time and money.
Apartment rentals are another great way to save money on travel, especially since these costs can be shared by several travelers, and self-prepared meals will bring down your travel costs even more. Tripping.com is a metasearch engine for vacation rentals that will provide comparisons of more than 15 different vacation rental sites, while Airbnb allows you to stay with locals, often at very attractive prices.
Staying in hostels is a long-established way to reduce accommodation expenses. For those who enjoy nature, camping has also long been a way to cut down on travel costs. CampInMyGarden.com will allow you to stay in private gardens of local homeowners. For various destinations in Europe, the price can be as low as two or three Euros per person a night.
Home exchange websites such as HomeExchange.com, LoveHomeSwap.com or HomeBaseHolidays.com may reduce your accommodation costs to annual membership fees as low as $50 to $100. Other ways to stay for free include Wwoofing.com (working as volunteers on organic farms) and Couchsurfing.com (locals offering free accommodation). Working as a housesitter will also allow you to stay for free, and as an additional perk, housesitters often get to stay in upscale properties or mansions.
 
3. Getting around locally
Local transportation costs can also eat a big hole into your budget. Instead of renting a car at an airport, rent a vehicle downtown and save money. Get a credit card that includes collision damage waiver insurance. Or forego rentals altogether and take local public transit, which is a lot cheaper. Most cities have multi-day or weekly transit passes that will save you even more money.
 
4. Eat well for less
Eating out at restaurants can take a huge toll on your travel budget, but there are many ways to reduce food costs. Use websites like Tripadvisor.com, Wikitravel.org as well as various coupon websites to look for inexpensive eateries or restaurant deals and coupons.
Visit local markets or grocery stores, buy and cook your own food, or stock up on portable foods and have a picnic. Many hotel rooms are equipped with fridges and microwaves; as long as you have basic utensils, you can prepare simple meals yourself.
Many cities have public parks where you can barbecue your own veggies, meats and sausages. Street vendors or food trucks are a great alternative to expensive restaurants and allow you to explore the local flavors. Many cities now offer special street food programs and events with increasingly sophisticated menu choices.
 
5. Save money on entertainment
There are various options available for reducing entertainment costs. Many museums have specific days and times when admission is free. Buying theatre tickets last minute will usually result in substantial savings. Coupon websites can also offer great deals for a variety of entertainment events. Local libraries generally put on interesting events that tourists can enjoy for free.
Cities across the world put on a wide variety of festivals that are free to attend, including music, food, theater, cultural or movie festivals. Buskers and street performers can also provide great entertainment for the price of a small tip. Parks and beaches are usually free to access, while many destinations offer free local walking tours. Reduced-price tours can be booked through websites such as GuidedByALocal.com, while you can use Colunching.com to join locals for a social dining experience.
Using the above tips should help you reduce your travel costs substantially while creatively enhancing your travel experience. Living more like a local and less like a tourist will not only help you save money, but it will also reward you with unusual and memorable travel experiences.
Susanne Pacher, MBA, is an award-winning writer and publisher of www.travelandtransitions.com, a popular online portal about unique travel and interesting life journeys. She also publishes the Niagara Travel Guide, the Ontario Travel Guide and the Styria Travel Guide on Facebook. Susanne is a passionate photographer and among the top global Youtube travel video creators with more than 8.5 million views. With a strong background in business and entrepreneurship, Susanne also provides tourism marketing, content creation, publicity and tourism consulting services. You can read her travel reports from countless fascinating destinations at http://www.travelandtransitions.com/our-travel-blog/.