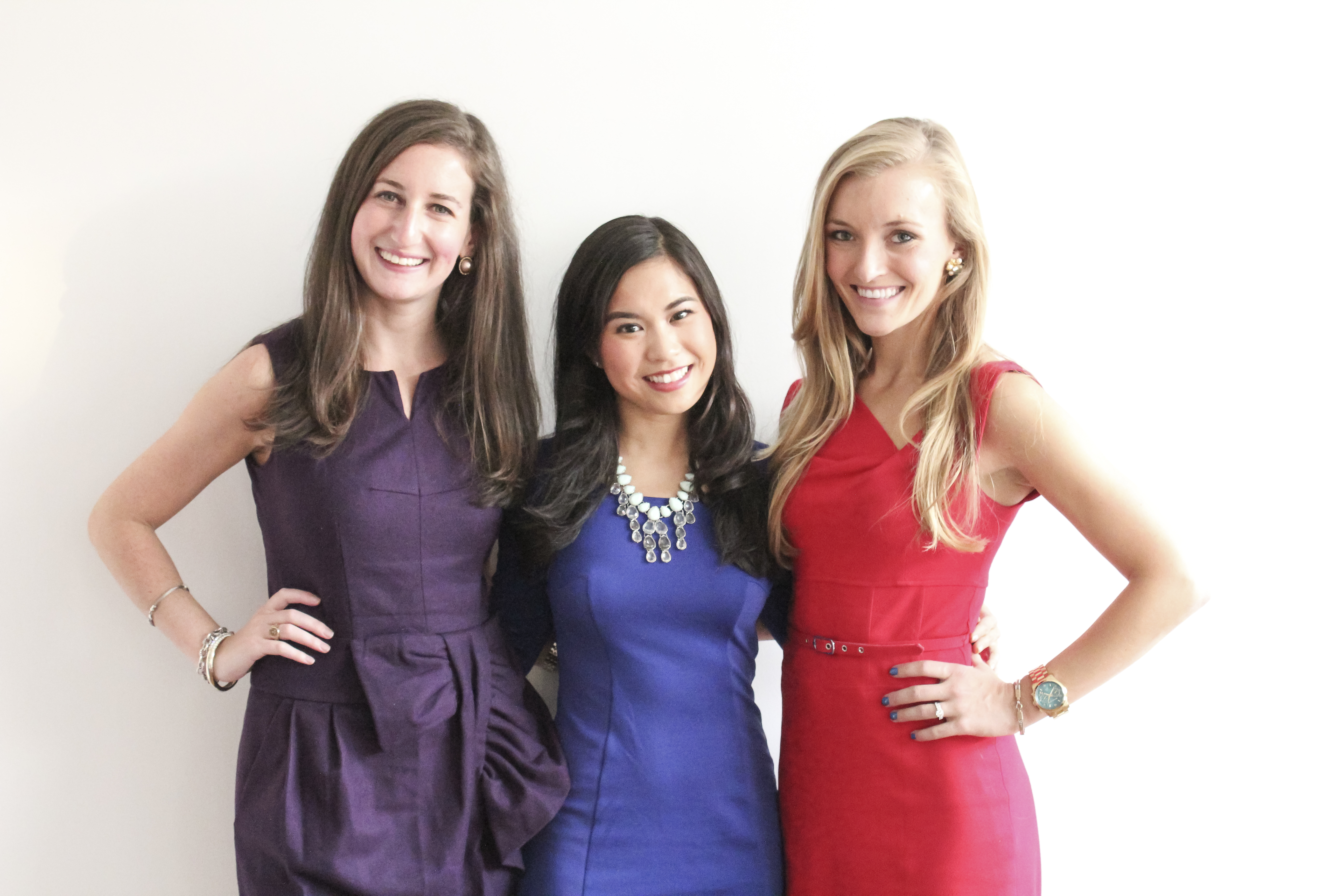 Annie Chandler Wang, Stephanie Kaplan Lewis and Windsor Hanger Western met as undergraduates at Harvard when they ran the university's lifestyle and fashion magazine, an on-campus student publication.
After moving the magazine online, they found their site garnered enormous interest from college women across the country, who began reading it and asking for advice on how they could start something similar at their own schools. The trio quickly realized that women at other colleges were hungry for campus-specific content. They dreamed up HerCampus.com, an online magazine written by college women for college women as a way to reach that underserved audience while also offering a platform for aspiring student journalists.
After developing a business plan for the idea, they went on to enter and win Harvard's business plan competition, and launched HerCampus.com during the fall of 2009. The three of began working full time on Her Campus after Stephanie and Windsor graduated in the summer of 2010 and Annie took a leave of absence from Harvard - and they have been busy building the business ever since.
We recently checked in with Annie to learn more about what's on the mind of college women today and get her insight on how today's undergrads can get a better handle on their finances. Here's what she had to say:
 
Who is Her Campus for? Describe your ideal reader.
Her Campus is written by and for collegiettes, our term for a college woman who is on top of her game - strategically career-minded, distinctly fashionable, socially connected, academically driven and smartly health-conscious - who endeavors to get the most out of her college experience on every level. We also have many readers who are either just out of college, and high school students trying to figure out what college is all about!
 
Who are the voices behind Her Campus? How can students get involved?
Her Campus is written entirely by the world's top student journalists who contribute to our national content sections - Style, Beauty, Health, Love, Life, Career, LGBTQ+, Real World and High School, or to their local Her Campus chapter - at over 250 colleges and universities around the world. Students can get involved as contributing writers, bloggers, designers, photographers, marketers, business developers and more. We also have an internship program that runs throughout the year. Additionally, our Her Campus Blogger Network provides mentorship and sponsorship opportunities to over 700 young emerging bloggers who write their own blogs. Information about joining the Her Campus Team in any of these capacities is available on our site, HerCampus.com.
 
Need some tips on managing money for college? Sign up for Mint today.
What do you think are the biggest concerns or issues for your audience when it comes to managing money?
As college students, our readers often have to budget on very little income - and sometimes, on none at all. Many of them are also mindful of the fact that they may have student loan payments on the horizon to plan ahead for. So their biggest concern is how to have fun in college and experience all it has to offer without driving themselves into debt. That's why it's so important to make a detailed college budget and to account for the hidden costs of college (including textbook costs, shipping and storage fees, and even laundry - trust us, it can add up!). It's also key to look into on-campus jobs for students since these positions are designed to fit around class schedules, unlike other jobs you might find off campus. Part-time jobs are still a great option, though, for students trying to bring in extra income and build their resumes!
 
What do you think are the most creative ways you've found students saving or making money while in school?
There are so many ways to save money aside from skipping that daily cup of joe, and even more ways to make money than getting a part-time job! When it comes to saving and spending, it's the little things that add up, because students probably aren't budgeting for them as carefully as they are big purchases.
Students have been taking advantage of everything the digital age has to offer; for example, apps like GasBuddy and Red Laser help them score the best deals in their area on everyday expenses like gas and groceries.
Making extra cash is just as simple. We all already know about consignment stores, but many students opt to sell their old electronics, books and clothes online or via an app without even leaving the dorms. For those with busy or unpredictable schedules that make part-time jobs difficult to keep, there are plenty of opportunities online that students can do in their own time that are still related to their strengths and interests; tutoring, creating study guides, copy-editing textbooks and the like.
 
What advice can you offer female students on finding money to pay for school? What resources do you think get overlooked?
College students generally seek scholarships before starting a new semester or school year, but it seems as though many forget that there are year-round scholarship opportunities to consider. There are several online resources you can refer to when looking for a scholarship that's a good fit based on your skills and qualifications; filtering the search and seeking out scholarship opportunities specifically for young women not only opens you up to being recognized for your accomplishments, but also will encourage you to pursue those strengths further!
 
What advice can you offer college students on saving money on ...
... Housing?
In some cases, it's more budget-friendly to live on campus; in others, an off-campus apartment makes the most financial sense. Does the cost of housing include a meal plan? Will your financial aid cover off-campus housing, or just accommodations in the dorms? How much does it cost to park on campus versus off? Remember, the cost of living doesn't just come down to what the monthly rent is; there are so many factors to consider, including bills, Internet, transportation costs, what your upfront costs are (such as a security deposit) and even who is responsible for repairs if there's damage done to the house or apartment. If you're an upperclassman and up to it, likely the most budget-friendly way to score housing is to be an RA; generally, rent will be free (or heavily discounted) and you could be paid an additional stipend.
 
... Books?
Always buy used! At most, any textbook you purchase for class will be used only over the course of a semester; sometimes, for even less time. While it's certainly more convenient to stop by your campus bookstore and find every book you need organized by course number, used books will set you back only a fraction of the cost of a new one. The only time you should be buying new is if the professor requires a specific, new edition of a textbook. If your professor will allow it, you can also try getting digital versions of your books that you can download onto a tablet or laptop; they're generally less expensive than print editions. Lastly, keep in mind that your school library is there for a reason, and that you'll likely find copies of required reading on those shelves, meaning you won't spend a dime on books. But if you're taking this route, be sure to check those books out as early as possible, especially if it's for a big class; many of your classmates might have the same idea.
 
... Food?
The beauty of college is that there's rarely a shortage of food around campus! Exploring your meal plan options thoroughly is a must; make sure to do your research on your college's dining hall page to make a decision that works for your budget. That said, take advantage of on-campus events with free food, whether it's a club meeting that interests you, an after-hours discussion group, or a student performance. Remember not to sacrifice your health just to score cheaper food, though; it can be easy to find free pizza at on-campus events, but make sure to balance that out with some splurges on healthy snacks so you're getting all the nutrition you need (without breaking the bank!).
 
... Entertainment?
There's no shortage of things to do on college campuses, so make the most of the free entertainment! Rather than spending your precious cash on a pricey movie ticket and popcorn at the theater in your college town, opt for a movie night in with friends or an on-campus theater group performance. The same goes for concerts! Pack your schedule with intramural sports and pickup games, student performances, art shows, and social events (like student formals) to keep yourself entertained outside of your academics.
 
... Transportation?
Budgeting for smart transportation depends on your options and your location; what makes the most financial sense in the suburbs usually isn't what makes the most financial sense in a city. Either way, draw up a list of the expenses each transportation method would entail - from monthly subway passes to parking fees and from cab cash to car repair costs - and tally up your expected monthly expenses, then factor it in with your other budgeting costs to see what works best for you. If you do opt for a car, make sure to study up on everything you need to know before buying your first set of wheels!
 
What are your favorite resources or tools for students when it comes to both learning money management skills and putting them into good use?
Getting started on budgeting is the hardest part! So our biggest tip is just to start - anywhere. If you prefer an old-school approach, simply start by writing down all your monthly expenses on paper and going from there. Or, organize your earnings and spending using apps or websites you can connect your accounts to; they'll organize your costs by category so you can get an easy visual of what you're spending on each month, and allow you to set a customized budget so you know exactly where you should be saving and where you can afford to be spending.
 
What are the biggest mistakes you think students make when it comes to money management?
When you're dealing with school, internships and a social life, it can be hard to remember that there's actually a life after college; and that if the cost of higher education seems overwhelming, there's so much more to budget for in the real world. This means actually making the effort to save money while in school so you're not graduating from college with nothing to your name but student loans. On top of that, it's important to start planning for the future; it's never too early to look into investing those savings (maybe even in more than just a standard savings account!) so that your money is working for you during your four years in school.
 
What financial trends and/or headlines do you think college students should be following today? How will it impact them?
If you aren't already using finance apps, you should be! Familiarize yourself with smartphone apps that will save you money, including apps like Mint or Level Money. It'll help you figure out where most of your money is going - hello, daily latté! - and help you manage your expenses based on your available cash. On a larger financial note, many college students are afraid of the stock market, but they shouldn't be! Research best practices, find a mentor if you can, and set aside some "play" money you could build up in stocks over time (i.e., money you would survive without if you lost it). Your money has the potential to earn a lot more in stocks than it would sitting in a savings account, so investing a small percentage of your funds could have major long-term benefits.
Connect with Her Campus on Facebook, Twitter, Pinterest and Instagram.