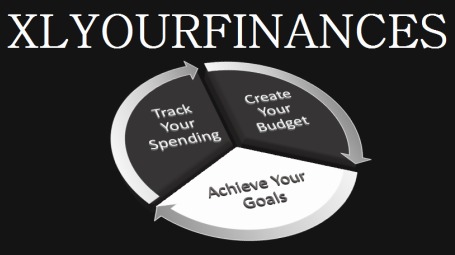 Are you a Microsoft Excel user that finds themselves running out of columns or frequently flipping between different spreadsheets?
XL Your Finances may be for you.
XLYourFinances is an Excel Spreadsheet that allows nearly infinite columns, which lets you store data for multiple years in the same spreadsheet.
XLYF's Brad Hoffer took a moment to tell us about the spreadsheet, some possible applications, and ways to save time and money with some black belt Excel kung fu.
Can you tell us a little bit about XLYourFinances? When did you get started? What prompted you to start your own company?
XLYourFinances is a Microsoft Excel personal finance spreadsheet. I have used Excel virtually every day for the past 15 years in the various jobs I have had as an accountant. This has allowed me to learn some of the advanced programming capabilities that exist in Excel in order to build user-friendly spreadsheets to solve complex problems and processes.
As I would learn tricks at work, I would incorporate them into my personal finance spreadsheet. In 2009, I decided to tackle making my spreadsheet "unbreakable" so that others could use it as well. This process took a lot longer than expected; and by the time I put together instructional videos and created a website, it was towards the end of 2010.
I have always wanted to have my own company, but had never found something that I had enough passion about to pursue. Personal finance is definitely something I have passion about, so it made sense to create the spreadsheet and the website, and start helping people with their finances.
Who is XLYourFinances geared towards? Who is your main clientele, and what are some ways that XLYourFinances is particularly geared towards their needs?
XLYourFinances is definitely for Excel users who are looking for an all-in-one solution to organizing and managing their finances. You must own Excel 2007 or newer to use it. I have found there are a variety of people who absolutely love the spreadsheet. I get comments like, "I have been searching for a long time and this is exactly what I was looking for..." Sometimes it is an advanced Excel user, and sometimes they are novice users; but either way, both recognize the huge amounts of time the spreadsheet is saving them.
Even though you touch on it in your FAQ, what are some reasons why people might want to use Excel in conjunction with online finance sites like Mint?
Once a person realizes how easy it is to download their transactions into XLYourFinances instead of manually tracking, they have that "Aha!" moment and they save themselves hours of time each week. Mint.com has made the downloading of transactions into Excel so convenient that Mint users save even more time. The way Mint compiles all your financial accounts into one spot, real-time, is simply amazing. I actually have a "Mint" button in my spreadsheet that takes the Mint download and converts it to the XLYourFinances format in one click.
The other great benefit of Mint is the app. When you use XLYourFinances' budgeting tool, you can easily come up with how much you have to spend by category. The Mint app allows you to easily see how you are doing real-time, so if you are out and trying to make a buying decision, you can pull up the app and see how much room you have left in the budget.
XLYourFinances is for those individuals who like having their transactions downloaded and available offline in a spreadsheet that is built to make it easy for budgeting, summarizing results, calculating their spending vs. income percent, forecasting their bank balance for the next 30 days, creating a personal financial statement, and giveing them the ability to drill down into the data.
What are the advantages of having all of your finances in one place?
Virtually all businesses utilize some sort of accounting system. It isn't even a question of whether it is needed or not; it is a given. However, when it comes to personal finance, many people don't have a system. Your personal finances should be viewed as a small company. You have income and expenses, you need a budget and you have to file taxes. The complexity of personal finance is often underestimated, and this creates a lot of problems. With the right system, you can set yourself up for success and avoid the common pitfall of overspending, which is often caused by not knowing your true financial position.
XLYourFinances can display the information for a virtually unlimited amount of years on one spreadsheet. How is this an advantage, and what are some circumstances where this could be useful?
Budgeting is so much easier when you can compare to past years by category and have the ability to drill-down and see what was behind the total. Also, seeing your personal financial statement doesn't have much meaning until you view it across multiple years. You start to see the story behind your finances and the fruit of all your effort as you see your equity position improving. Finally, it is invaluable to be able to easily find specific transactions. Just the other day, I was on the phone with my Internet provider discussing our Internet speed, which was too slow. They wanted me to purchase a new router. I knew it wasn't that old, and with one quick search I knew the exact day I had purchased it. Once I could tell them this information, it changed the conversation and we searched for a different solution. Ultimately, we ended up resetting the router to factory defaults, and it fixed the problem. It is often to your advantage to be able to know exactly what has happened in the past.
How important is it to be organized at this stage of the game, and why? How much time and money can people hope to save by having their finances in one place?
The sooner you can get your finances in order, the better. Think of it like cleaning your house. You can do spring cleaning and get everything organized; but if you don't stay on top of it, it doesn't take long before you can't find things again. You are better off doing a little bit each week, and then things aren't so overwhelming.
In terms of saving time: if you are manually keeping track of your spending, you can save several hours a week by downloading your transactions into the XLYourFinances workbook. If you currently aren't doing anything with your finances, you should expect to spend 10 to 20 minutes a week depending on how complex your finances are.
In terms of saving money: by setting goals, sticking to a budget and knowing your true financial position, your money savings are only limited by how motivated you are. It takes motivation to stick to a plan. XLYourFinances lets you know how well you are doing. Just like a game, if no one keeps score, it's kind of pointless. XLYourFinances helps you keep score.
There's a blog post on your site about using Excel to save time and gain control of your finances. What are some ways that Excel can be used for ultimate financial control?
When you know your financial position, you can make better buying decisions. People usually assume this just means not spending money; but the reality is, it also gives you confidence that you can afford what it is you want to purchase. This knowledge and confidence empowers you and takes the mystery out of finances. Excel plays a key role by making it easy to navigate through thousands of transactions with filters, searches and summaries. Excel was built to manage data, so why not use is it for the most important data: your personal finances?
In that same post, you also talk about a bunch of really useful time-saving tricks on Excel. Can you share a couple of these tricks with us?
The ultimate source for learning tricks in Excel is www.mrexcel.com. I recently supported Bill Jelen's (founder of mrexcel) campaign on Indiegogo. He raised $25,183 to publish his 40th book titled, 'MrExcel XL Book - 40 Greatest Excel Tricks'. I am excited for the opportunity to contribute tips and tricks for this book. With that said, if I had to give one piece of advice to someone wanting to get to the next level in Excel, I would say to learn the 'SUMIF' function. Once you master how this function works, you can start doing some really cool things in Excel.
Any other advice or encouragement for people looking for financial freedom this year?
There is an ancient saying by Ahikar that goes, "I have hauled sand, I have carried salt, but nothing is heavier than debt." Being in debt is kind of just a way of life for a lot of us. I think making a commitment to get out of debt is one of the best things you can do. I'm not as worried about our mortgage, which is for a house that typically retains its value. I am concerned about our credit card debt, where we are buying things we cannot afford and then paying them off over time. When you use your credit card, make sure that you can pay it off in full each month, and make sure that you are spending less than you are making.
In summary, it is difficult to make positive changes which is why I love this quote from Robin Sharma ... "All change is hard at first, messy in the middle and gorgeous at the end."
For more info and updates from XL Your Finances, follow them on Twitter, and connect with them on LinkedIn.