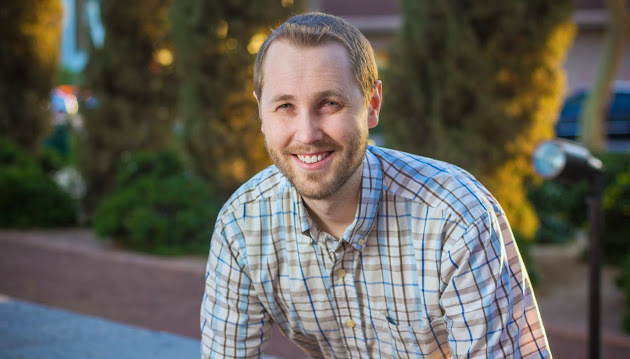 What if someone told you the only thing standing in your way of success was you? That's exactly what Bryce Christiansen of Balanced Worklife Company says in this interview.
Christiansen also gives advice on how, with Balanced Worklife, individuals can empower themselves with the skills to move forward in life as successfully as possible. This means individuals can learn to work in careers that make them happier and even help them to earn more money.
In what way does Balanced WorkLife help professionals further their careers?
At the executive level, we help professionals and their teams identify the top skills they need to be successful, and then provide coaching, tools, and modules that help them achieve their goals. Also, we stay on top of the latest research and methodologies from the top business speakers and coaches such as Simon Sinek, Patrick Lencioni, and Shawn Achor so we can deliver best in class workshops and coaching for our clients and their teams.
At the professional level, we've set up a site called MyCareertopia.com where we are focused on helping individuals find their work personalities and the careers that match them.
What goes into discovering one's own work personality?
Based on our own research, we've found that there are four reasons people leave their jobs. One, they are unhappy. Two, they don't feel like their job is a fit anymore. Three, they need more money. And four, they don't see a future in their role.
All four of these problems stem from your ability to find work that fits with your "work personality." If you have a career built around who you are, you're going to be happier, have a job that fits, probably make more money because you're good at what you do and enjoy it, and have a future in your role since your work is in harmony with who you are.
So we've made it our goal at MyCareertopia.com to help professionals find their work personality and then build that into a fulfilling career. The process for discovering your own work personality comes down to two parts. One, understanding HOW you work. And two, discovering WHY you work.
In our ecourse, "How to Find the Perfect Career Fit For Your Personality," we walk you through the process in a DIY fashion. In the free ecourse, we also share the science and assessments we use to help people discover their work personality.
Once a work personality is discovered, how can individuals use this information to further their careers?
Once you understand how you work and why you work the way you do, you'll start to recognize the work behaviors you enjoy in a job as well as the ones that will burn you out.
For example, you might discover you like having a sense of security in your work, being a team player, and working with other people. At the same time, you may learn you don't do well in fast-paced environments or where lots of risks are involved.
Armed with this knowledge, you can go into a job search much better prepared for finding something you'll actually be good at and enjoy. You'll also be equally equipped to avoid making a job mistake that can cost you years in a bad job fit culturally as well as personally.
In addition, when you know what motivates you, you can choose an organization that supports those motivators. For example, if you are motivated to help or be a champion for others, or to help others reach their potential as they see it, then organizations that support causes may be a better fit than one that is totally bottom-line oriented.
How do your services enable individuals to go forward and generate more wealth?
A big part of our service is helping knowledge workers understand where they are most productive and happy. If we can then work with them to get into their talent zone, they naturally generate more wealth for their teams and themselves. We all start with the same amount of time; if we focus on where we are most productive, we will generate the greatest chance of success.
What do you feel holds people back from reaching their potential?
People who fail to invest in themselves are the ones at the greatest risk of not reaching their potential.
Successful actors and sports figures are continuously learning and perfecting technique. Doctors, dentists, lawyers, pilots, teachers, and other professionals all must invest in their careers to stay on top of the latest advances. In business, many organizations provide training in processes and procedures, but few (especially if they are small to medium sized) businesses provide soft skills training and/or coaching. This places the responsibility squarely on the individual to learn the skills they need to be a successful, productive, confident professional.
Please describe a success story you can share with us.
Working outside your talent zone is the biggest stumbling block for reaching your potential. At the time that he came to us, our client Bruce was a sales executive looking to broaden his experience base to gain access to the "C" suite. We ran him through all of our talent assessments, including our proprietary Exceptional Talent assessment.
This instrument produced a report that disclosed what Bruce was exceptional at and what he loved to do. Bruce took the results to heart; and from that point forward, he only focused on his exceptional talents and hired people for his teams who were great at the stuff Bruce wasn't. He built Exceptional Talent teams.
A decade later, he stepped into his first CEO role. He came back to us to say that his ability to earn this role was the result of knowing what he was great at and loved doing; and therefore, where he could produce the greatest value to the organization.
In what ways should individuals, executives, and teams look to Balanced WorkLife to empower them to do better?
We believe there are four doors to go through when investing in yourself.
Door #1
Mastering your Uniqueness: This is a lifelong study, understanding and evolution of those things that you are truly exceptional at doing. It is using your exceptional talents as the decision-making process for everything you commit to in life that's worth doing.
It is critical to self-actualization and to your personal productivity and success. When you master uniqueness, you improve the probability of achieving your full potential. Inside your talent zone, you generate lifelong joy and satisfaction in your work and activities, which can bribng you high productivity and rich rewards.
Door #2
Defining the Unstoppable You: Through implementing and managing an ongoing goal-setting process to drive personal breakthroughs, you gain control of your life. You are prepared for whatever obstacles are thrown in your way, and you can achieve a balance. You get self-actualization: a sense of purpose, accomplishment and well-being. You get to make choices, and you become in control of your life vs. being controlled by circumstances.
Door #3
Accelerating with Power: This is acquiring the underlying skills required to power yourself into your future. These are the skills without which you will find it difficult, if not impossible, to make quantum leaps. Skills like Confidence, Gratitude, Time Mastery and Networking.
Why is that important? Well, there just isn't enough time to achieve your full potential without being able to supercharge your journey from step to step.
With these capabilities, you achieve success steps faster, easier, and with less effort; and you do it on purpose and in a way that the impact on others supports your future.
Door # 4
Leveraging Your Leadership: When you do this, you dramatically reduce the time you spend in one level before you justify moving to another level. It maximizes the return you give back to organizations for their investment in you.
There aren't enough years in your lifespan to reach your full potential unless you leverage others. When you leverage, you accelerate and are ready for opportunity in a shorter period of time. You also have the time to develop the skills needed to leap to the next level or higher.
The key empowering we do for individuals, executives, and teams is bringing awareness and clarity around goals and success criteria. Once you understand where you are heading, we provide the coaching, tools, and modules to get you there.
Financially speaking, how do your services benefit clients?
We work with all of our clients to help them maximize the value they add to the world. The core of our coaching centers around understanding ourselves and the people around us so we can be more effective collaborators. When you have a greater sense of self and can work well with others, you are naturally going to progress professionally. There's a reason the best of the best all have coaches. If you don't have a coach yet, your career is one of the best places to start.
Follow The Balanced Work Life on Facebook and Twitter.