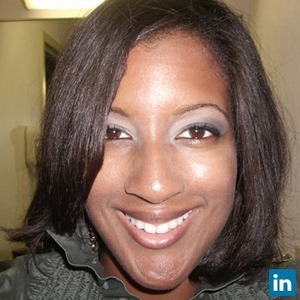 When you sat down with your high school guidance counselor to pick your career, chances are "small business owner" wasn't even an option.
This is true despite the fact that, according to Forbes, 75% of all businesses in America don't have any employees apart from the owners. These nonemployers (or solopreneurs, as Dequiana Jackson puts it below), grossed $989.6 billion in 2011 in the United States alone. With the uncertainty of the regular economy, the prevalence of home-based businesses, and the availability of work due to the Internet, this figure is bound to increase.
Dequiana Jackson has always been passionate about small business, from selling candy and friendship bracelets at 8, to starting her first solopreneur venture at 23 as a single mother. Her passion for business and learning took her to one of the nation's leading business schools, but she has remained committed to small businesses and the spirit of entrepreneurship. She shares her passion, extensive knowledge, and experience at the blog Entrepreneur Resources.
She took a moment to talk to us about her website, her business background, and what she anticipates for the near future of entrepeneurship.
How did Entrepreneur Resources get started? What differentiates you from the other financial websites out there?
I started Entrepreneur Resources in December 2005 when I was attending my first year at the University of Chicago's Booth School of Business.
Growing up, my family encouraged me to go to school, get a "good job" and work until I retired. While that was great for them, it wasn't the path I wanted to follow, and I knew there had to be others out there who felt the same way as me. I know I was blessed with the opportunity to learn from some of the best business minds in the world at U of C, and I wanted the blog to be a platform where I could share that knowledge with current and aspiring small business owners. I wanted them to know that entrepreneurship is a viable career option.
I believe Entrepreneur Resources is different from other financial websites because we recognize that being a small business owner doesn't mean your financial needs are the same. We aim to provide information that targets small business owners in a variety of situations: working full-time with a business on the side and a family to take care of, working as a single solopreneur, looking for capital to fund a new venture, or working as a business owner with employees.
Can you tell us a bit about your personal background and how it has led into writing for small businesses?
The majority of my background is in small business. In fact, I've loved it my whole life. As a child, I sold friendship bracelets, snacks and greeting cards to classmates and neighbors. I started my first company as a solopreneur and mom at 23. Though I had the skill and the passion, I did not have a clue about marketing. It took me 6 months to land my first client! Luckily, I was accepted to a great business school and learned the marketing strategies I needed to make my company a success. Now I share those same strategies on the blog.
I've always loved writing, too. I have kept a journal since I was 8 years old, but it was my high school English teacher, Mrs. Barshes, who really honed my skills. She stressed adding structure to my writing and drilled into us that a first draft is never a final draft. We edited everything, even A papers. I hated it then, but I appreciate all of her lessons now. When I started the blog back in 2005, I was excited to be able to combine these passions as a small business writer.
Entrepreneur Resources is specifically designed for small business owners. What are some issues that are specific for entrepreneurs that you have written about?
Working as an entrepreneur is very different from working as an employee. A few of the things you need to look out for aren't even specifically business-related: lack of time management, isolation and burnout.
As an employee, there are usually set-in-stone deadlines handed down from your boss that you must meet. You know you'll be in the office Monday through Friday from 9 a.m. to 5 p.m., and you set the appropriate pace to get things done. You also know that you might get reprimanded if you miss one deadline and fired if you miss too many.
As an entrepreneur, on the other hand, you control your own time. In fact, many of the deadlines you set will be artificial with no immediate consequence.
Say your company's website needs an overhaul, for example. You want to get it done in 30 days, but if you don't finish, there's no one over your shoulder scolding you for not completing it. Instead, you have to set mini-goals and stick to them -like Day 1, hire a web designer; Day 10, finish all web copy; Day 15, approve design; Day 30, final approval and launch.
Isolation is also something entrepreneurs deal with, especially if they work from home. It can be an adjustment to go from an office full of coworkers to being by yourself during the work week. Sometimes all you need is a change of venue. Take your laptop to the library or local coffee shop and work there. Schedule lunch with a friend; and most importantly, expand your network to include other entrepreneurs. They'll know what you're going through and can help you beat the isolation.
Lastly, entrepreneurs can suffer from burnout. Most employees have the benefit of shutting things down at the end of the day. Weekends are great because they can leave work at the office and not pick it back up again until Monday. Not so for the entrepreneur. If you're working on something you're passionate about, it's hard to wind down. I know there are many weekends that I worked straight through. It felt good at the time, but eventually fatigue crept up on me. Now, I advise entrepreneurs to schedule office hours and stick to them. I tell them the work will be there, and the company will not go under if you decide to take a vacation. This is also why we write about outsourcing and having proper systems in place on the blog. It's about working smarter.
You also offer marketing coaching services for women entrepreneurs. First of all, what are some of the areas that you coach your clients in? Secondly, what are some issues that women entrepreneurs specifically have to deal with?
Though I am a marketing coach, many of my coaching sessions start with lessons on having the proper mindset for entrepreneurial success. There is a lot of mind clutter my clients need to get through before they even implement any marketing strategies - things like "Do I deserve to have success in business?" or "Why would anybody pay me for this?" I've learned that when my clients don't feel they deserve something, they sabotage themselves. It ends up becoming a self-fulfilling prophecy.
For example, if they don't believe anyone will pay them for their knowledge, they'll charge less than their products or services are worth. In turn, they really won't get paid much for what they know. Once we work together and the mind clutter is gone, we dive straight into marketing and branding fundamentals: getting to know your target consumer, understanding how your product/service fixes a problem, branding yourself and your company, creating multiple streams of income, utilizing systems and making sure you have an actual marketing and promotion plan that matches your brand.
Many women entrepreneurs are faced with a choice between focusing on their careers and focusing on their family. The choice doesn't have to be mutually exclusive, but it takes proper planning and support to be successful at both. If you have a big client meeting and your child's dance recital is happening at the same time, there will need to be a tradeoff. I've coached women on figuring out what was most important to them and structuring their business around that.
Having a proper support system of family, friends and other entrepreneurs is important. Also, when you have a vision for your business that others can't understand, you sometimes have to limit your exposure to those negative people or cut them off entirely. Some married clients have also had to deal with an unsupportive spouse. Their husbands didn't believe entrepreneurship was a viable career option. In those instances, my clients would have to build their businesses slowly and prove themselves, in a sense, before their husbands were on board.
Starting one's own business is increasingly becoming an accepted path, where once it was considered unrealistic. What are some reasons why entrepreneurship is gaining traction in your experience? What are a couple of pointers you might have for people who are starting their own business for the first time in 2015?
I believe one reason entrepreneurship is gaining traction as an accepted career path is because of all the media attention it's gotten over the past few years. There are now entire shows dedicated to helping entrepreneurs be more successful like Hotel Impossible, Restaurant Stakeout and Bar Rescue. Each show focuses on how to turn around a failing company; and while the business owner may not always take the expert's advice, viewers can glean some great information. The businesses profiled are from all over the country, giving viewers a sense that "if these people can do it, I can do it, too." Shark Tank is also a great show because you get into the minds of investors and learn what really makes a large company viable.
For people who are starting their own business for the first time in 2015, I would first tell them to make sure they have a business idea with a large enough market that wants to buy it. Every great idea isn't meant to be a business. I would also advise them to think about financing. Getting money from family and friends isn't an option for every entrepreneur, so they'll need to work a full or part-time job and save money while also growing their business on the side. I would also tell new business owners to surround themselves with a good team. Even if you're in business by yourself, you can still have a team of trusted advisors and subcontractors to help you along the way.
You have a section on your website for resources for small business owners. What are a couple of your favorite apps and websites for different areas of business?
My email inbox seems to always need cleaning, and I just found a website that will help. Unroll.me is a service that uses your email address to help find all the mailing lists you've used that address to subscribe through. Then you can scroll through the list and easily unsubscribe to what you don't want.
Mint.com is great for monitoring personal cash flow. All the information is put in one place so you can get a full picture of your income and expenses. I think it's a great reality check, especially if you're looking to save money or eradicate debt. It's hard to focus on running a company when you're worried about how you're going to pay your electricity bill. Knowing where you're spending money and what you can cut out is great.
For reputation management, a free tool I use is Google Alerts. Once set up, Google sends me regular emails whenever my name, my blog's name or my company's name appears in online media. I've also done regular searches with some of the popular search engines, like Google, Yahoo and Bing. I search for my name in quotes to find out the latest buzz.
You also have a section for Marketing on your website. Can you give us a couple quick pointers for people who are just starting to spread the word on their business for the first time? Can you speak briefly about dividing one's time between business and advertising?
If you're just starting to spread the word on your business, you first have to know your target customers inside out. Who are they, and what problem is your business solving for them? Please don't fall into the "my business is for everyone" trap. Not everyone will want what you have, and even if they did, you probably don't have the budget to either advertise to or manufacture products for that many people. ☺
Once you know your target customer and their buying habits, design campaigns to put your company in front of them at the right time. Speak their language and speak to the benefits they'll gain from trying your product or service instead of a competitor's.
Also think about marketing as a comprehensive plan to get your business into the minds of your target consumers rather than an afterthought. It's not just putting together a Facebook ad campaign or running a coupon in the local paper a couple times a year. I encourage entrepreneurs to create a yearly marketing calendar listing all their proposed activities and campaigns. This is what most large corporations do to ensure they're covered throughout the year. It should include the products you want to focus on during a particular season, how you will promote it, how long you'll promote it and how you'll measure success. Set goals for each campaign and measure afterwards to know what worked and what didn't. That way you'll spending your marketing dollars wisely.
If you put your plans in motion ahead of time, you won't be left scrambling to pull something together each month. This also leaves you more time to work on other aspects of your business, like creating new products and services, hiring employees or attending networking events.
You wrote a post recently with some tips for optimizing your business in the New Year. What are a couple of things people can do to grow their business? Do you have any advice on expanding or raising awareness, while still taking care of the business you already have established?
To grow your business, you can either sell to new customers or get your current customers to buy more from you. As entrepreneurs, the tendency can be to gain market share by new customer acquisition and spend little time thinking about existing customers. This is the wrong approach.
People buy from those they know, like and trust. It's going to cost more to develop a relationship with a customer who knows nothing about your company than it is to keep a relationship with someone who has already bought from you. Your current customers are excellent prospects. These people are already aware of your brand and have used your services, and if they were happy with them, they would likely be open to trying something new from you. Don't ignore them. Instead, keep in touch with these customers via a mailing list and social media. Send tokens of appreciation like coupons or company swag once in a while. Do a personal check-in with those who were big buyers in the past. Conduct periodic surveys to see what other needs they have, and then create a product to speak to it.
What are some reasons people should consider starting their own business at this stage of things, especially if they have an idea and are passionate about it?
There are questions every entrepreneur should ask themselves before starting their own business. Here are a few:
Is this business idea viable and does it have a big enough market to sustain me?
How am I going to structure my business?
Who are going to be my trusted advisors?
Where am I going to get the capital to fund this?
Do I have the support of my family and friends - and if not, am I prepared to press forward anyway?
Do I have the discipline to be my own boss?
If this business fails, am I prepared to dust myself off, get up and try something else?
For more updates from Entrepreneur Resources, like them on Facebook, and follow them on Twitter.