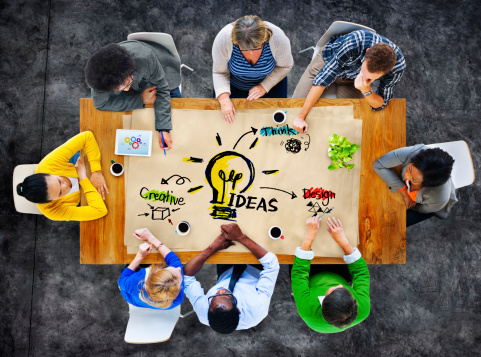 Affiliate marketing is a great way to make money beyond your usual job, but it's also a tough subject to follow. That's where Geno Prussakov, affiliate marketing master and head of AM Navigator, comes in. He spoke with us about affiliate marketing and how to make it work for you.
What is affiliate marketing?
Simply put, affiliate marketing is performance-based marketing, whereby affiliates promote a merchant's product or service and get compensated for the performance that the merchant (or advertiser) desires, and only when this performance occurs. Depending on the affiliate program's setup, the advertiser may be compensating affiliates for referred sales, leads, subscriptions, downloads, or even inbound calls.
While being only about twenty "years of age," affiliate marketing is a quickly growing industry. Per Forrester Consulting, the affiliate marketing spending in the USA is expected to reach $4 billion by 2015 and $4.5 billion by 2016. On the other side of the Pond, according to a 2014 PriceWaterhouseCoopers/IABUK study, in the UK affiliate marketing represents a £1 billion spend a year, and contributes to some 100 million transactions that account for 8-10% of UK online marketing spend and 0.8% of the country's GDP (or nearly as much as agriculture).
What are some risks of affiliate marketing that might not be obvious at first?
The key risk for advertisers is entrusting your brand (your most valuable asset!) to independent marketers. To make the most of affiliate marketing, advertisers must ensure that there is a skilled helmsman steering the ship of their affiliate program. Their affiliate program manager must take an array of steps which include building a solid foundation, engaging the right types of publishers, and then making sure that these affiliates complement and do not cannibalize the advertiser's own online marketing efforts - but add value for both consumers and for the advertisers.
Who should consider getting into the industry?
Today, nearly every retailer in the Internet Retailers' Top 500 list has an affiliate marketing program. For some of the world largest eTailers, affiliates bring in as much as 40% of all their business. I believe that every business that markets online should also consider starting an affiliate program.
Conversely, every online publisher who is looking for ways to monetize their online properties must consider becoming an affiliate. Per 2013 Technorati Digital Influence Report, which surveyed over influential 6,000 online publishers, "affiliate programs" (41%) are in the top 3 most popular ways of "how influencers earn revenue" coming in third only after banners (61%) and text ads (51%). Affiliate ads have been in the top three since 2010, competing with such popular monetization methods as "display ads" and "search ads."
What are some common misconceptions about working with affiliates or being one yourself?
I'll give you three on each side: three misconceptions that merchants or advertisers frequently have, and three common delusions that newbie or aspiring affiliates tend to have.
Let's start with advertisers or merchants:
Merchant Misconception #1: Deeming affiliate programs to be a great way to test things out.
Quite frequently, advertisers think of affiliate programs as a cheap way to "test the waters" - hoping that trying things out through affiliates will tell them if a product, website, or an idea is worth pursuing further. Professional affiliates strongly oppose such an approach. As a super affiliate, Todd Farmer, puts it, "affiliates are not guinea pigs" and "the idea that a merchant can simply throw up an affiliate program before optimizing for conversions is short-sighted" and "appalling" to affiliates. Do not expect affiliates to invest their time, money, and effort into promoting an untested website or product. Such an approach just spells disrespect for what they do or could do for you.
Merchant Misconception #2: Expecting affiliate networks to manage your affiliate program.
This is another common and dangerous misconception. Launching an affiliate program on an affiliate network (like ShareASale, CJ, Rakuten LinkShare, eBay Enterprise Affiliate Network, or any other) you are choosing a platform on which the program will be run. Unless contractually presupposed otherwise, affiliate networks are responsible only for providing advertisers with the infrastructure for running affiliate programs, but running these programs for them. The latter is something that affiliate managers do. Affiliate networks provide us with tracking, reporting, and handling affiliate payments. They also offer us tools to run our affiliate marketing campaigns. However, in the vast majority of cases, they will not manage our affiliate programs. We ourselves must take care of affiliate recruitment and activation, compliance policing, support of the communication channel, and optimization of our program on an ongoing basis [more in my slide deck on 5 Foundational Pillars of Affiliate Program's Success]
Merchant Misconception #3: Focusing on the number of recruited affiliates.
The reality is such that in most affiliate programs, only about 5% of affiliates are yielding 95% of activity. The majority of affiliates is either delivering modest volumes or is inactive altogether. It is, therefore, integral for advertisers to focus on the numbers of active affiliates and not merely those that join the affiliate program. Affiliates should be viewed as an extension of (and an important part of) your sales team; and only active salespeople are good salespeople. Having said this, avoid the deadly mistake of terminating inactive affiliates from your affiliate program, but rather dedicate time to motivating and equipping them to produce those sales, leads, subscriptions or whatever it is that you are looking for them to drive to you.
Turning to affiliates, the top three misconceptions, in my option, go as follows:
Affiliate Misconception #1: Expecting a fully automated passive income.
Phrases "automated income" and "passive income" have already become clichés. However, it is plain silly to expect fully automated earnings that do not require your ongoing involvement. Yes, one may indeed automate many things as an affiliate. However, due to the dynamic and constantly evolving nature of Internet marketing, it is not possible to build a 100% secure passive income stream. You have to put time and effort into it.
Affiliate Misconception #2: Being afraid that the market is already too saturated.
There are, indeed, niches which are quite crowded; and unless you have something of truly unique value to add into the pre-purchase process, or if you are just starting in affiliate marketing, you may want to look for a less saturated niche. However, the overall "market" is by no means "too saturated." There is plenty of room for innovative and passionate individuals to make good money working as affiliate publishers.
Affiliate Misconception #3: Believing in the need to focus "hot niches."
Finally, there is this belief that to earn megabucks from affiliate marketing, one must focus on so-called "hot niches." Yes, it is extremely important to stay on top of the current trends, tendencies, and market demands. However, you do not have to be promoting dating, insurance, or health products to become a top affiliate. If you produce content geared at photographers, for example, it is obvious that monetizing it via promotion of weight loss products or dating websites is not going to be a good idea. You want to focus on the products and services that are of primary interest to them, and market photographic supplies to this audience, review cameras and related software, and other things that are of importance to them. Many a time have I witnessed how laser-focused affiliate marketing gives birth to super affiliates in the niches of their passion.
What are some uses of affiliate marketing that some people don't consider?
If you are an advertiser looking to build an email list, consider using a pay-per-lead affiliate marketing program that pays affiliates for every quality subscriber referred. If you sell a high-consideration product or service (be it because of the price point, customizations involved, or pre-sales questions your customers may have), look into starting a pay-per-call affiliate campaign.
Affiliates, on the other hand, should always look at things through the eyes of their target audience, striving to add value by saving people time and effort and making their shopping educated, exciting, and enjoyable.
What's next for the AM industry?
In a recent blog post recapping the year of 2014, I underscored the continued growth of the affiliate marketing industry, as well as a number of really exciting new developments we have witnessed in the course of the past months.
For example, it isn't new for an affiliate network to sell for billions of dollars (it happened in 2007 when Google spent $3.1B on DoubleClick, and then in 2011 when eBay purchased GSI commerce for $2.4B). But in 2014, for the first time ever we saw an affiliate website (Ebates) sold for $1B. We also witnessed a number of other positive developments: from new affiliate conferences springing up worldwide, to new research conducted by major outlets, to new educational opportunities, to continued recognition of affiliate marketing as an integral element of the digital marketing mix.
I think the future is bright - but only for those of us who are open to continuous self-education, agility, flexibility, and ability to discern opportunities where others may only see risks and dangers.
For more of Geno's thoughts on affiliate marketing, follow him on Facebook, Twitter, and Google+!