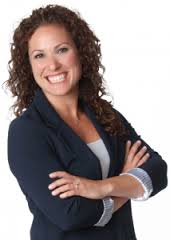 In her 11 years as a certified financial planner, Jaclyn Mazur says that most of the mistakes her clients make -- whether it is taking on too much student loan debt, not saving enough to reach their retirement goals or purchasing the wrong home -- could have been avoided by understanding how the day-to-day decisions they make can impact their financial future.
That's why the president of Guide My Finances is such a strong advocate of educating young people about personal finance.
"I am a firm believer that financial knowledge is power; it can be positive and provide choices," she says.
Jaclyn thrives on educating her clients about how to make the right decisions from the very beginning, correct mistakes along the way, and reevaluate and reassess to make better choices moving forward.
Here, she talks about which areas of personal finance Americans need the most help with and offers her thoughts on how to help young people become smarter money managers. Read on:
Tell us about Guide My Finances.
Guide My Finances is a boutique financial planning and investment management firm. One of the unique aspects of our business is our flat fee financial planning. This service allows us to offer unbiased, comprehensive advice on an hourly or flat fee basis. We believe that each client we work with should have clearly-defined financial goals and a strategy to reach them with. Our philosophy offers a holistic financial planning approach where we work with a variety of complementary symbiotic areas such as financial planning, money management, retirement income planning and tax planning.
What services do you offer? Who should be using them?
Flat Fee Financial Planning - This is a great solution for anyone looking for a plan. Through our flat fee financial planning process, we work with clients to determine their financial goals and develop a strategy to reach them.
Money Management - We recommend that clients with $50,000+ in investable assets should consult an investment advisor like Guide My Finances. We work with these clients to ensure their assets are invested appropriately and are in line with their risk tolerance, liquidity needs, time horizon and goal funding.
Divorce Financial Planning - Apart from the emotional strain of going through a divorce, one of the most difficult practical aspects can be dividing assets. We work with clients to value assets and recommend strategies for this division of assets.
Income Distribution Planning - Individuals with three to five years to go to retirement need a distribution strategy to ensure their investments are allocated appropriately and that they don't outlive their assets. Through our exclusive Next Phase planning process, we develop an income distribution strategy system designed to reduce the risk of running out of money in retirement.
Where do you think Americans fall short when it comes to personal finance? What are we most ignorant or confused about?
In my opinion, there are two main areas Americans fall short when it comes to personal finance.
The first is student loan debt. While student loans can be critical for many college students, there are responsible and irresponsible ways to use them. When you are approved for a student loan, FASFA gives you access to the total amount you are eligible for in two categories: subsidized and unsubsidized. When students see these amounts, they typically click accept without much thought of what their payments will be at some predetermined point in the future. If students only took what they needed, rather than what is offered to them there would be less student loan debt hanging over their heads.
The second is living within your means. I have clients making $75,000 per year and clients making $500,000 per year; and within both categories, individuals are living paycheck to paycheck. As these clients have increases in their incomes, they accumulate a larger expense, which ultimately leaves them feeling strained.
While every situation is different, I recommend to my clients that when they get a raise or an increase in income, they set aside 50 percent for savings and allocate the other 50 percent to increasing their lifestyle. This way, there is a balance to how much they are saving and how much they are spending.
What personal finance basics should everyone have a good grasp of?
Everyone should have a grasp of the personal finance fundamentals that include saving, budgeting, investing and credit.
What is MoneyMindED? Why did you start this program?
MoneyMindEd is a tutoring program I designed to teach teens about financial responsibility. The program was developed in 2009 while I was teaching as an adjunct college professor. I was baffled by how little knowledge my adult students had about personal finance, and I wanted to have a part in changing that. It's my belief that by educating students prior to them heading off to college, strong financial habits can be fostered right from the beginning so that they become financially cognizant of future financial pitfalls that can be avoided.
What are the most common questions or concerns your MoneyMindED audience has?
Most of the questions come from parents wondering how they can lay a positive foundation for their teens. It starts with leading by example and educating your teens on responsible saving and spending.
How do you think parents can better prepare their kids when it comes to money management?
I recommend engaging your teens in financial conversation through some or all of the following strategies:
Lead by example. Your teens will often mimic your financial behavior, so setting a good example is key.
Teach them the value of money through working for an allowance. Through an allowance, you can show your teens how to work for money and can teach them beneficial lessons like saving and budgeting.
Involve them in large purchases, like buying a car. This can be a great lesson on saving, borrowing responsibly and negotiating.
How can parents get their kids to be more proactive about managing their money? How can they get kids involved with things like budgeting, saving, goal setting, etc.?
I recommend my clients bring their teens with them when we conduct their annual financial planning meetings. Although they may not fully comprehend all the details, it will help them to practically envision their own financial futures.
What are your favorite financial planning/money management tools or resources?
Mint.com, of course.
I also like favor bankrate.com for comparing rates and Feedthepig.org for understanding basic financial concepts.
When it comes to books, I recently read The Law of Divine Compensation, which I enjoyed because it was different from most of the financial planning books out there.