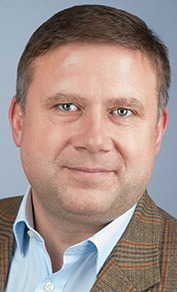 When a company is ready to consider an overseas expansion, there are plenty of challenges to overcome to ensure a smooth transition.
Trade Horizons Limited helps brands that want to gain a foothold in the U.K. navigate the complex world of market entry.
CEO and founder Nick Jordan says that based on their research, clients unanimously say that the cultural aspects of expanding abroad are the most difficult aspect of growth; and while that's often the case, the issues are much broader than just language and customs.
You can't underestimate the challenge of entering a whole new market.
"You are the same company with the same products or services, but the rules of the game - even the game itself - is likely entirely different," he says. "Navigating this complex task - where there is no right or wrong answer - is THE challenge every company faces."
To be successful, you'll need help - at least initially, Nick adds.
We recently checked in with Nick to find out more about the type of help Trade Horizons offers and the considerations companies need to make before hopping over the pond. Here's what he had to say:
 
Tell us about Trade Horizons. What services do you offer? Who should be using them?
Trade Horizons is a specialist market entry company that helps ambitious, growing companies expand their business into the U.K., including those looking to establish in the U.K. as a gateway into Europe.
We established in 2013 with the ambition of helping SMEs (small and medium-sized enterprises) around the world fulfill their international expansion goals and succeed in entering new markets.
A wealth of statistics shows that companies that expand their business internationally significantly outperform companies that do not, and yet a move into a new market is enormously risky. Four out of five companies fail in market entry, with failure rates even higher for SMEs. Despite this, little help is available for SMEs that is cost-accessible and practically focused to help them navigate through the market entry process and improve their chances of success in the new market.
We wanted to change this and provide cost-effective, comprehensive, action-orientated support for SMEs and help them accelerate toward sales and profits in new markets while minimizing the risks.
All of the directors have lived and worked around the world, and all of us have been involved in market entry; so we created a market entry model and services that we would have loved to have had available to us when we were in that position.
Trade Horizons offers a comprehensive approach to market entry, and aims to assist with all aspects of market entry. We are not consultants, but market entry experts; this is what we do. We help accelerate companies through the entire market entry process and provide the local, specialized end-to-end knowledge, skills and support needed.
Our services range from offering sales and distribution of products for those looking to enter the market without establishing a company here, to the planning and preparation of market entry, as well as the execution of that market entry.
The latter two services, Prepare and Implement, are our core offerings, as these constitute the most important and riskiest stages of market entry - and where most efforts fail. We want to de-risk the process and offer a friendly expert hand to help them into the U.K. and facilitate the greatest chance of success.
 
Can you describe your ideal client? What types of companies do you serve?
Our "ideal" companies are ambitious with a determined passion to succeed. They are true "businesses" that make informed, considered decisions and are already successful in their home market with the ambition to grow further. They know that entering a new market is a big risk, but that the rewards can be vast; they therefore understand that such a task needs thorough preparation, and that help in understanding and establishing in the new market is both necessary and invaluable.
I say this as we get approached by so many "businesses" who turn up here without a plan or strategy or having considered this move into the U.K. thoroughly, and they start by asking for help to find them partners or sales leads. This is before they've even defined what their business proposition is for the U.K. - and sometimes even which products or services they should be selling, let alone what their budgets and timelines are!
We know immediately from the two types of companies which are the ones most likely to succeed and which will come here, waste 6 months or more of valuable time and money, and retreat home.
In terms of size and age, our clients are usually over three years old - typically five to seven years - and have an annual income of over $10 million (more typically $25 million to $50 million). That being said, we've helped some companies that would almost be classified as a "start-up," and some that are multi-national corporations.
 
What questions should companies ask themselves when considering entering a foreign market?
Why am I doing this?
Am I ready? - operationally, legally, financially, people
What is my best route to market?
What USP do I have - or can create?
What constraints should I factor in - time, money, people?
What is the line for retreat?
Who can help me in the local market?
 
What are some red flags that they might not be ready?
A key one is the stability of the home business and market. Any instability is a red flag to not pursue market entry, at least not fully.
You cannot take on a risky project like market expansion if there are major issues with the home business or market. We worked with a creative services company that came to establish here a few years ago, but major changes in his home marketplace meant the CEO was constantly back home fighting fires and could give no attention - or allocate any budget - to market expansion. In such a situation, you go home and retrench; but it's better to first determine whether the home market and business is stable enough to support you through expansion.
Typically, other factors relate to operations, processes, legal, finance and people.
There are a whole lot of things that need to be restructured and geared up as you make yourself ready for international expansion. For example, if you're exporting products, you need to start managing foreign exchange transactions and risk among other things, and you'll need someone that knows what they're doing here. If you're manufacturing at home but exporting to other markets, your operations and processes are going to need to become far more sophisticated and efficient.
All of these things need identifying and a proper business case with an investment plan put into place. If you haven't got a business plan that includes considerations of these factors, and a related financial plan that looks at likely income versus this type of expenditure, plus related costs in the new market - I'd say that's a pretty big red flag.
 
What sort of research should companies be doing about the markets they're considering?
It's important to get a good understanding of the overall market, size, growth, sectors, key players and so on; and this can be done largely through desk research. However, the really valuable research is to get fresh, local, relevant insights from the market that relate directly to the company's own business and objectives and helps them identify a way of entering the market with a competitive and compelling offer. This will also help provide guidance on market share achievable and potential income.
Proprietary "insight research" provides truly valuable and unique information to help a company best position itself in the new market. This might comprise a series of 1:1 interviews with experts in their market sector, such as influencers, buyers, decision makers and suppliers; or analyzing the strengths and weaknesses of various competitors and market offerings from a buyer's perspective to identify gaps. What's important here is to gain insights into the marketplace that will help that company find a route to, and place in, the U.K. market.
It needn't be expensive or take a long time to undertake such research; we do it as a matter of course for our clients. What's important is that it's local and relevant and helps practically.
 
What problems or frustrations do your clients come to you to solve? How do you help them?
We help with all the fundamental market entry questions/problems:
Market selection and prioritization: which market?
Market readiness: am I ready?
Preparation - This is one of our top two services: helping prepare a practical go-to-market plan that considers all of the top requirements for creating a successful business here.
Implementation - Our second main service: this is where we offer invaluable help to companies as they land. We arrange a soft landing with all of the support that they need, so that for a three-month period when they arrive, they can come and set up in our hub and get all the market support they might dream of - including a coach, a sector mentor, introductions to the networks and people that matter, legal, financial, marketing, and other such specialist experts on hand for consultations. This is market entry at its very best!
Clients additionally come to us with very specific problems; perhaps they can't find sales leads or they can't find a partner. Typically, such problems go back to first principles of not having a good plan in place and knowing what their competitive business proposition is in this market and their route to market.
 
What do companies often overlook in this transition?
Unbelievably, they often overlook the fact that a NEW market actually does require a fresh consideration of their business, product or service proposition and brand; and that usually, some adaptation will be required to best position themselves for optimal future profit streams and growth.
New markets have different market conditions at different stages of maturity, with different competitors and different customers who are from a different culture and usually speak a different language. As such, it is vital to spend the time considering how to take an existing product or service into this environment: it's often a good idea at first to stand back and assume you know nothing and consider how would you approach things given this fact.
I know this answer may be unexpected, but it is what our market entry partners and we typically face.
Where we offer huge value is that we work with our clients to challenge their assumptions about their market entry and often find that they end up entering the market differently from their expectations. It really is a case of new market, new game.
 
What are some best practices for navigating the process?
Plan on preparation, preparation and preparation before launching into the new market. Better to get things right at the outset than to change things retroactively. This will waste time and money and increase the risk.
There will be adaptation: expect and accept this. Never take your home business model, products or services and brand and expect to place them directly into the new market: it won't work.
Get local guidance and expert help
Create a business plan based on knowledge and insights from the new market
Get good local staff, and or leader to help you navigate the new market
Keep learning and listening
Don't assume
Connect with Trade Horizons Limited on LinkedIn, Twitter, YouTube and Google+.