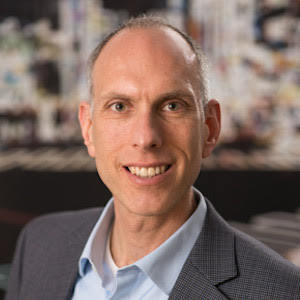 In the U.S., it seems parents often skip talking to their kids about personal finance issues because they themselves don't feel they have a good understanding of money. A study by T. Rowe Price found that three in four parents admitted that they weren't honest with their children about money.
And Russell Winnard, Senior Education Consultant for Personal Finance Education Group (pfeg), says the experience is the same in the U.K.
But, by increasing financial education in the classroom, they've found that it's not just kids who are gaining confidence in their money management skills - parents and caregivers are also learning.
"This form of family learning is becoming increasingly important in the U.K., and the transfer of knowledge from young people to parents and caregivers in respect of financial education is an excellent example of this working effectively," he says.
Russell recently checked in with us to discuss more about the work pfeg is doing in the U.K. to get kids talking about money and offer advice on starting personal finance conversations with your kids. Read on:
Tell us about Personal Finance Education Group ... what services do you offer?
pfeg (Personal Finance Education Group) is the UK's leading organization helping schools to plan and teach children and young people how to manage their money now and in the future. A registered charity, it values its independence and integrity.
pfeg's vision is a society in which all children and young people have the skills, knowledge and confidence to manage their money well, now and in the future.
pfeg's mission is to support education providers in giving children and young people the skills, knowledge and confidence to manage money. We do this by:
Influencing policy and practice
Supporting educators in teaching money matters with confidence
Providing education resources that will engage and inspire.
What we do:
Work with schools - pfeg delivers a range of free resources and support to make teaching money management easy. We know that each school, academy or college is unique and needs to find its own solution to meeting the requirements of its learners. We believe that trained teachers provide the most effective route to young people becoming financially capable, as they know their pupils best and understand how to integrate personal finance education into lessons.
Influence education policy and improving practice - pfeg works with Westminster and Whitehall, opinion formers and key bodies to campaign for consistent, high-quality personal finance education.
Work in partnership to improve the quality and quantity of personal finance education - pfeg receives cross-sector support from education, business and government. Innovative projects enable young people to learn in ways that are relevant and engaging, supporting teachers to become more confident and competent. The pfeg Quality Mark ensures that teachers can use resources, sure in the knowledge that they will meet educational objectives.
Why do you think it's so important to teach children and young adults about money? What are some of the more surprising benefits?
Young people today grow up in an increasingly complex world requiring them to make difficult decisions that will often have a significant impact on their future, more so than in previous generations. Young people need to make informed choices and take responsibility for their own actions, for example, when taking out a credit card or a phone contract, and if faced with tuition fees. They also bear more financial risk in adulthood due to increased life expectancy, decreases in welfare benefits, and uncertain economic and job prospects.
The level of choice that young people face in financial products and services today is phenomenal. If we expect our young people to be able to make informed decisions that are appropriate to their own needs and circumstances, then a financial education is crucial.
OECD evidence shows that internationally younger generations have lower levels of financial capability compared with their parents. Engaging and memorable financial education is needed now more than ever.
One of the more surprising outcomes of financial education being delivered within the classroom is that impact that this can have within the family home. Young people engage well with financial education as it is real and relevant to them. Because of this, they take the information home with them and share with parents and caretakers, and this can have an extremely positive effect.
How do you get kids to listen when you talk about personal finance topics? What gets them excited?
When delivering to young people, never refer to it as "financial education." This can come across as grey, dull and boring. Instead, focus on real-life scenarios that are relevant to the young people in the group. This might be using the context of things that are important to them, such as mobile (cell) phones, or it could be linking into a particular national or local news story that is relevant to them. As soon as young people can see that what they are learning is something that could be useful to them, they become engaged.
In respect of financial education, this tends to happen very quickly as young people can see the relevance and appreciate how it could help them now and in the future. Money is, in itself, exciting. The possibilities of money, the choices we might have to make and the pitfalls to avoid are all issues that young people find exciting because they know that they will be able to use the skills they are learning and the attitudes they are developing in the real world.
How do you ensure that kids won't listen to what you're telling them? What tends to make their eyes glaze over?
The best way to turn young people off of anything is to tell them things that are just not relevant to them. Trying to discuss the advantages and disadvantages of fixed rate mortgages is just not going to do it for 12-year-olds. However, talking about the images on TV of Black Friday, and discussing the effect a discount can have on us as individuals is more real, and something that the young people will be fully engaged in.
What personal finance basics do you think every young person should have a strong grasp on before they go to college?
As individuals, we will all have slightly different financial needs; however, if we had to narrow it down, there are four core themes that all young people could benefit from prior to college:
The impact of interest on savings and borrowing
The virtues of having a bank account
An ability to budget on a regular basis and use this to plan ahead financially
And possibly the most important ...
Have the confidence to seek out and ask for financial advice
How can parents ensure their children are learning about personal finance topics at school? What can parents be doing at home?
In England, there has been significant support from parents and teachers for financial education to be delivered within schools.
The first step to finding out the current financial education provision of a school is just to ask. In the vast majority of cases, the school will be able to inform parents of the extent to which financial education is covered, which topics are covered, and how they are delivered. Schools are also usually very receptive to feedback from parents and caregivers, and if the feeling is that improvements could be made to the financial education provision of the school, then arrange to meet with one of the senior managers or write to them expressing your thoughts.
The most effective financial education is a collaboration between the provision within schools and that by parents and caregivers in the home. Whilst schools are able to develop the knowledge, skills and attitudes towards money and finance in the classroom, parents can provide real-life application of this in the form of money-related experiences and discussion.
How do you think educators can integrate conversations about money throughout the curriculum?
Personal finance and money have the ability to link to the vast majority of curriculum areas, from situational role plays within Drama to Germany's hyperinflation during the 1920s within History.
Money is a key part of our society, and as such has links to all areas of a broad and balanced curriculum. The trick for educators is to draw out the money-related learning from the content they would normally be delivering, irrespective of subject area.
What are some of the most unique or interesting ways you've found teachers integrating personal finance lessons in the classroom?
The innovative way teachers approach financial education never fails to amaze me. I've seen a primary school (age 4 -11) teacher work with his class to plan his motorbike trip around Europe, covering topics such as exchange rates, budgeting and making financial choices.
At secondary school, one of the most innovative ways was through music. The teacher had worked with her students to develop a musical performance centered around money. The students performed this to the rest of the school, thereby not only increasing their own education, but the financial education of every student in the school.
Connect with pfeg on Facebook, Twitter, YouTube and LinkedIn.