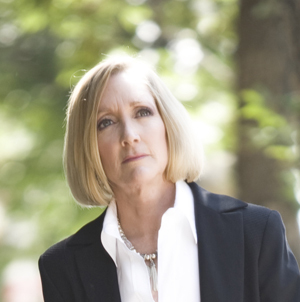 We recently asked Dr. Leslie P. Roberts, president of online small business training site GoForth Institute, what it takes to be a successful business owner.
"Most successful entrepreneurs are determined people - they don't give up when things get tough - and they're going to get tough!" she says. "They're passionate about what they offer to the market, and most entrepreneurs enjoy people and building strong relationships with their customers."
And Leslie knows a bit about entrepreneurship. She became a professor of entrepreneurship in 1998 and holds the first doctorate in entrepreneurship awarded in Canada. She taught entrepreneurship for 14 years and decided to become an entrepreneur herself in 2009.
Here, she answers a few questions about GoForth and shares her insight and advice about running a small business.
 
How did you become so passionate about helping entrepreneurs?
As a professor, I studied success and failure factors associated with entrepreneurship. Those entrepreneurs who took the time to get some small business training were more likely to succeed than those who didn't invest in training or developing their business skills.
 
Tell us about GoForth. When and why was your organization started?
We saw a need to offer affordable, comprehensive and convenient small business training to entrepreneurs across Canada. We introduced our small business training in 2009 and launched the first streaming-over-the-web high-definition video education program in Canada.
 
What services do you offer to business owners?
In addition to our 100 Essential Small Business Skills online training program, our website delivers an Ask an Expert program, as well as downloadable resources, templates and checklists to help entrepreneurs get started.
 
What are the biggest challenges facing small and emerging businesses today?
Uncertainty is a common challenge, such as not knowing where the next deal or order is coming from, particularly in the beginning. Uncertainty leads to cash flow problems. Keeping money in the bank is a good idea because things can change in the business environment quickly. Hiring and retaining good people is also another common challenge for small businesses, but generally they're more flexible and can offer other perks to employees such as flexible working schedules or working from home.
 
Get started saving for your big idea by signing up for Mint.
What are the most common mistakes you see business owners making that leads to their business failing?
Not investing in building business skills before they start their business. Most people don't know what they don't know about small business until it's too late.
Not saving enough money or keeping enough cash on hand.
Spending too much money in startup before the business concept has been proven.
We see so many mistakes! And we made some of them, too! But we learned from our mistakes, and include those learning moments in our small business training course so others can benefit from our mistakes.
 
What are some good habits business owners need to get into at the outset when they're conceiving, starting and growing their businesses?
Get used to long hours and no sleep. Entrepreneurship is like a marathon - make sure you're in a good place in your life so you can focus on bringing this baby to life. Keep a cash reserve so you can eat during the first two years. It takes longer than you think for a business to become successful.
 
What's one piece of advice you find yourself repeating over and over again to aspiring business owners?
There's a great distance to travel between your great idea and a successful business. Make sure the market wants what you're planning to offer; do some market research and run your business on paper before committing your life savings to a new venture.
 
What are your favorite resources for entrepreneurs? (books, websites, apps, organizations, etc.)
Online newspapers - Globe & Mail, CBC News, Entrepreneur, Inc., Fast Company, TechCrunch.
For apps - we use Trello and Slack for project management and internal communication.
Connect with GoForth on Facebook, Twitter, LinkedIn and YouTube.
Get started managing your money by signing up for Mint.