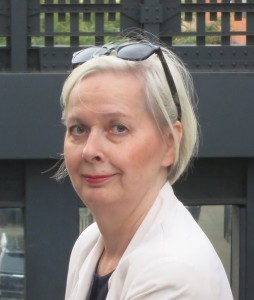 According to Forbes' Magazine, as of October 2014, less than 13.2% of people between the ages of 18 and 34 own their own homes. In light of high unemployment rates and $1 trillion in student loan debt, rentals are a fact of life for many.
But what if you don't have any rental history? Or are having a hard time finding a place? Or have to live with a bunch of roommates just to make ends meet? These are some of the challenges facing young renters these days.
Seija Goldstein, on her website My First Apartment, looks at the many different aspects of renting, from the financial to the interpersonal. She's sort of a one-stop headquarters for all of your rental information needs. So if you're looking to impress a landlord or find a cheap place to grab a cocktail in Atlanta, My First Apartment has answers.
How did My First Apartment get started? What inspired you to start the blog initially?
The blog is a family venture. We started it with my writer son after he went through a challenging first apartment experience. He unknowingly rented a roommate share in a Chicago building where a tragic balcony collapse had killed many young people at a party a year before. He basically did not check anything before he signed the lease, and was shocked to discover the building's history when it was too late. My daughter, who is in graduate school, has inspired posts with her first apartment experiences in New York too, and she has also worked on the site's marketing and analytics.
I am a business consultant to media companies and run My First Apartment on a part-time basis with a team of bloggers from around the country.
Who is My First Apartment's main audience, and what are some ways your content is specially suited for their needs? How might people outside of this audience still benefit from the things you write about?
About 50 percent of our audience is under 25, and close to 80 percent is under 35. They are first-time renters looking for some basic information about how much to budget for rent and utilities, how to split the rent (and get along) with roommates, and how to furnish their first place on a shoestring budget. Two-thirds of our readers make under $50,000 and many make under $20,000, so we always keep that in mind.
Most of our bloggers are current or recent first-time renters who share the ups and downs of the experience along with the lessons they have learned, and a lot of our how-to posts would be helpful to anyone who is trying to manage on their own with limited resources.
You wrote a post recently about "How To Conduct A Successful New York City Apartment Hunt," which is a notoriously difficult market to crack. First off, could you give a brief recap of that article? Do you have any recommendations as far as filtering results, setting up automation, or any other ways to make an apartment search more efficient? How can these tips be applied to other cities?
That post was written by our blogger Ben, who detailed in it the specific steps he and his roommate took to find a two-bedroom apartment in Brooklyn. This was the fourth post he wrote about his move to NYC. The earlier posts covered his planning for the move and his visit to NYC with his dad prior to the move.
http://www.myfirstapartment.com/2014/09/im-moving-to-new-york-but-first-im-going-to-visit/
http://www.myfirstapartment.com/2014/10/im-moving-brooklyn-heres-ill-furnish-apartment/
http://www.myfirstapartment.com/2014/11/found-new-york-city-im-going-move/
You also have a post about how to avoid first time renter's mistakes, like budgeting for expenses as well as rent. What are a few other common mistakes people make when living on their own for the first time? How might someone go about making a hypothetical budget before they know what their utilities are like?
Picking the wrong roommates is one common mistake, and not having a roommate agreement - or at least a detailed conversation that covers expenses, housekeeping rules, and visitors - is another one. My First Apartment has many posts on that topic.
Regarding hypothetical budgets, we just updated for 2015 grads our very detailed sample budgets for someone earning $20K, $30K, $40K, or $50K - plus links to other posts with even more budgeting basics.
You feature a lot of interpersonal advice on the site as well, from splitting finances with a significant other to 3 Simple Steps To Avoid Roommate Drama. With more and more people being forced to share space, how important is it to keep a household running smoothly and peacefully? Can you share a few quick tips that have been particularly useful for you?
Our bloggers with roommates have always emphasized the need to have housekeeping rules and, most importantly, rules about visitors. Our most vitriolic comments have always been about roommates' guests overstaying their welcome.
No one wants to live in an empty, featureless apartment. You feature a number of posts on decorating on a budget, from wall decorations to making your own bookshelf headboard. What have been some DIY projects you've done personally or that have been popular with your readers? Where are a few places to find cheap or free decorations?
Our bloggers have shown that it is possible to furnish your first place on any budget, from zero dollars on up. Just search the site for "furnishing cheap" and you'll find tons of resources.
What are some terms someone could look up when considering moving to a faraway city for the first time to find the right area for their interests and budgets?
Just search the site for "long-distance move."
There's a lot of competition for rentals these days. Do you have any advice as far as how to make a good impression on the landlord, or how to stand out from the competition?
Search the site for "landlords." Here are couple of posts on the topic.
http://www.myfirstapartment.com/2014/09/5-tips-for-making-a-winning-first-contact-with-landlord/
http://www.myfirstapartment.com/2011/11/make-yourself-a-renter-every-landlord-will-love-7-tips-to-get-approved-for-the-perfect-apartment/
What if someone doesn't have a rental history? What are some other references or documents an individual can put together to show their merits to a potential landlord?
You can get references from other people, such as your employer and a family friend who knows you well. If you have been living at home and paying rent to your parents, you can document those payments. If you are dealing with a large leasing company, they will also run a credit check on you; so a good FICO score goes a long way to assure your future landlord that you'll pay your rent. If all else fails and you have the extra savings, you can offer to prepay several months of rent upfront.
http://www.myfirstapartment.com/2011/11/make-yourself-a-renter-every-landlord-will-love-7-tips-to-get-approved-for-the-perfect-apartment/
http://www.myfirstapartment.com/2013/03/taming-the-first-rental-paperwork-monster/
Lastly, a lot of people are really poor when they move out on their own. Do you have any recommendations as far as how to find free or cheap fun things to do? What are some of your favorite things to do on a budget on the city you live in?
There are cheap and free things to do in every city. Start by searching the websites of your local dailies and city magazines for free and cheap things to do.
I live in NYC, and the NYC-Arts.org lists pages and pages of free and cheap event on their site.
Another great resource is Club Freetime, a $19.95 annual membership site that gets you tickets for a $4.50 fee to all kinds of show and performances. http://www.clubfreetime.com/new-york-city-nyc/free-discount-complimentary-tickets-theater-concerts-shows-dance
Our blogger Sarah, who lives in Atlanta, wrote about her favorite money saving tricks last summer.
And our blogger Alissa shared her best NYC tips as she moved to Chicago. http://www.myfirstapartment.com/2011/09/20-tips-for-surviving-new-york-city-on-a-budget/
We also show how you can entertain your friends at home and don't always have to meet at expensive bars and restaurants.
For more updates from Seija Goldstein and My First Apartment, like them on Facebook, and follow them on Twitter and Pinterest.