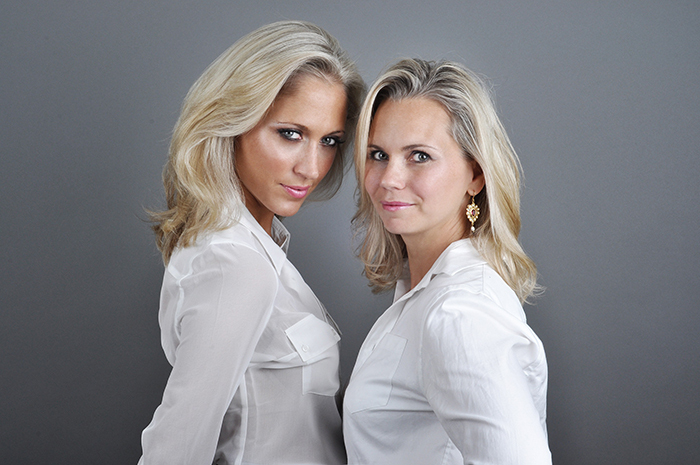 Susan Misner and Laura McDonald think it's important that women have a platform for talking about finance, which is why they founded Golden Girl Finance.
"Women are set to inherit 70 percent of all the wealth that's expected to be passed down over the next two decades - and they already control 80 percent of the day-to-day household financial decisions," Susan and Laura said. "Financial freedom starts with financial literacy - and we decided one of the best ways to do that was to create an environment in which women could feel comfortable researching and tackling common financial issues that affect our every day."
A big focus at Golden Girl is making sure the discussion is fun and entertaining and to show that money affects so much of our lives, from the yoga pants we buy to the retirement plan we choose.
"We should learn from each other - whether it's a big financial fail by a celebrity or words of wisdom from a billionaire female entrepreneur," they added.
Here, the pair talk about their site and discuss what areas of finance they think women should pay closer attention to. Read on:
Can you tell us the story behind Golden Girl Finance?
Golden Girl Finance was created to fill an educational gap in the financial media space addressing the personal finance needs and wants of women - and having fun while doing so! Susan was motivated by her 20 years of investment industry experience and Laura by her entrepreneurial efforts in communications and marketing. It was serendipity that we ran into each other one day when taking our daughters to dance class. While we waited for their class to finish, we got to talking about the state of female financial power - and how it hasn't changed all that much despite other movements empowering women.
For example, Susan had a slew of brilliant female investment clients who ran their own businesses but, for whatever reason, would shy away from discussing personal finances. Laura admitted right away she could relate with those women. She often left the investment decisions to her hubby, also in the finance industry.
We decided to put our heads, wallets and pens together to start Golden Girl Finance, a vehicle we wanted to use to encourage financial empowerment through education among women in North America. We've since grown the company, published two personal finance books and now employ a team of smart women who all believe in the vision.
Whether they're seeking a raise at work or wanting more input in finances at home, what advice do you have for women about finding the confidence to broach conversations about money?
Talking about money is an all too common awkward moment we're constantly looking to avoid. But we say: Do your research, and you'll be a pro before you know it. Look for tips and advice from influential women around the world who have been there, done that. Trust us - we find them everywhere and share their stories. It's important to know you're not the only one out there to approach your boss for a raise and get the reaction like, "whoa, back off, crazy lady" because you asserted yourself. A lot of such women found ways to come out of the experience with a higher salary, though.
We look at stories about households that have managed to save thousands of dollars in a year so that you can educate your own family on how to better save a buck. You can also read about how brands like Zara, H&M, Lululemon and Facebook are performing so you can better analyze where your investments (and your shopping money) is going. Confidence comes from knowledge and finding a way to make that knowledge accessible and engaging.
What areas of finance do you think your readers are most tentative about? How can they get over their fears in these areas?
We would have to say the stock market. A lot of readers might still equate it to a wolf's den (particularly thanks to Hollywood's obsession with an ultra-macho Wall Street culture). While the realm of investments, stocks and bonds can sound complex and intimidating at first glance, even just a little reading can go a long way. We don't shy away from complex topics like alternative investing, exchange-traded funds and portfolio diversification - and you shouldn't either. We do our own investigating and also team up with great financial institutions that bring their top experts to our forum and give our readers the best resources. It's really only a matter of knowing the facts, weighing the risk against the reward for your personal financial situation and finding a money manager who knows what she's doing.
What are some personal finance basics you think every woman should have a firm grasp on?
First and foremost, every woman should understand what "living within your means" really means for them. It's about more than making the monthly payments you can afford on your income - it's about the amount of money you can allocate to wealth growth that allows you to increase your net worth over time. With housing generally being the largest expense in a monthly budget, understanding your mortgage terms and all your options is key. With taxes being the single largest expense we will pay over our lifetime, it's essential to understand and optimize your tax situation. You are obligated to pay the tax you legitimately owe and not a penny more. Getting great advice to pay the correct amount over time will allow you to allocate more to savings and building sustainable wealth. Commit to being financially-savvy in all areas of your life and make your money a tool that works for you.
What about advanced money management/investing/planning skills that savvy women should take the time to learn?
Above all, women should understand the ins and outs of their purchasing power, which is just as fierce as it sounds. First, know that with great purchasing power comes great responsibility. It means understanding the differences between impact and impulse, value and price, assets and liabilities; it means being able to calculate risk against reward while always protecting your money as best as you can. It means diving into the investment realm and understanding the principles of the disciplined investor. It also means setting appointments with different financial advisors - like, a lot of appointments - until you find the right one for you.
What are the most interesting financial headlines you've been following lately?
We're interested in Alibaba's recent IPO. It's a Chinese e-commerce company that's set to take the world by storm - and still, it has yet to become a North American household name.
We're also interested in Apple's recent accomplishment as the U.S.'s most highly valued company ever - particularly since it was only a decade ago that stocks were trading for less than what it would cost to buy an iPhone today. And of course, we could never downplay the many fashion houses across the globe all clamoring over one another, each hoping to be the next big designer to go public. Of course, there are those, like Pinterest, that are running as fast as they can in the opposite direction of Wall Street, which interests us too.
What are three things you think every woman should do right now to secure their financial futures?
Create a budget, start saving anything from $5 to $50 a week for retirement and/or a rainy day fund (or more, if you can make room for it), and set real, tangible financial goals - the kind you can mark off with a gold star once you reach them, whether they are to increase your financial knowledge or increase your bottom line.
What are some of your favorite money management tools or resources?
Our favorite - and call us biased if you must - is our Living Within Your Means calculator. We love it! It helps make the budgeting process that much easier and also helps us set goals for the short-term and long-term future. We use it anytime we experience any kind of life change that could affect our income. Even something like upgrading our wardrobe with a new designer brand can make us want to whip out the LWYM calculator. The calculator makes taking that first step into financial freedom way more confident and comfortable.
Connect with Golden Girl Finance on Facebook, Twitter, LinkedIn, YouTube, Instagram, Pinterest and Google+.