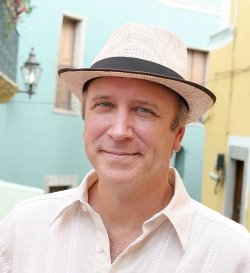 Do you dream of traveling far away from the maddening crowd and finding wide open, untouched, unspoiled wilderness -but don't have thousands of dollars to spend?
Everybody deserves to have nature and adventure in their lives, no matter how much or how little money they have.
This was the premise under which Tim Leffel created Practical Travel Gear. Being a lifelong, passionate fan of the outdoors, travel, and adventure, Tim Leffel got tired of reading reviews telling him that he needed a $15,000 watch to experience the outdoors. He started Practical Travel Gear to review the best deals on travel gear, from all over - both online and off.
If you wish to save some money on travel gear, but don't want to spend your life clipping coupons, Tim Leffel and Practical Travel Gear are a lifesaver.
Tim Leffel took a moment to share some tips on ways to save money on camping and travel gear, and when not to skimp.
 
How did Practical Travel Gear come about? What need did you perceive that you set out to fulfill?
I got really tired of seeing reviews in glossy magazines that were just a string of aspirational items like $15,000 watches, $5,000 skis, and $800 suitcases. There's a very tiny subset of travelers who can afford those things, so I set out to review items that real travelers would buy and pack - items that would hold up well and were a good value. At first, I was doing it myself on a Blogger site; but in 2009 I launched on the current domain with a team of writers so we could put get to multiple items each week.
 
How might someone save money by getting a pro deal from a manufacturer? And are there any retailers that are known for having particularly good coupons in their newsletters?
Most people who get pro deals are at least somewhat involved with the industry; but unless you always need to have the latest and greatest items the month they come out, it's not hard to find special deals. Many gear companies do put their own items on sale regularly. ExOfficio, Colombia, and Eddie Bauer are consistently good about this, for instance.
Overall, though, if you don't mind last season's or last year's hot item a little while later, you can always find substantial discounts online and at some physical stores. If you have a favorite retailer, definitely sign up for their newsletter so you get the best selection early.
 
What have been some of the best values in the adventure gear category that you've seen? Are there any types of adventure gear that you wouldn't necessarily want to skimp on?
This is a constantly evolving industry that keeps getting better in terms of durability, function, and weight. It's so competitive now that anyone putting out crappy outdoor adventure gear isn't going to survive very long. Even at the low end, the quality keeps improving each year thanks to better manufacturing processes and new materials. The best values these days are in apparel and daypacks; you can get a lot more features and durability now for less than what you would have paid five years ago for the basics.
If you're going to skimp on the budget, though, I'd say there are three areas you want to get the best gear you can afford: backpacks, sleeping bags, and tents. In each of those cases, you'll really wish you hadn't bought a no-name cut-rate brand with a short warranty when you're facing rough conditions. It may work fine, but not if you're in trouble.
Also, pay a little more for something with a built-in waterproof membrane like you get from Gore-tex, eVent, Polartec, or Outdry. That's definitely worth the premium if you'll be anywhere wet.
 
Minimal, lightweight camping gear can be pretty pricey. Have you found any particular deals? How can lightweight gear help someone have the best outdoor experience?
It all depends on what it's for, of course. If you're car camping, weight doesn't matter much. If you're hiking the whole Pacific Coast Trail, though, every pound counts. The best strategy is to watch for closeout deals from the major online retailers. It's not uncommon for them to sell last year's version at a 50% discount to make room for this year's version that's maybe one ounce lighter and a different color. Check the outlet stores and seasonal sales to get well-made, name-brand lightweight gear for less. Careful packing can eliminate a lot of weight as well; smarter choices can pay off more than ultra-light gear in some cases, especially when it comes to gadgets and shoes. Some simple hacks can help too, like the old standard of sawing your toothbrush handle in half and leaving the razor at home!
 
How can something as simple as a cooking stove not only help someone have a better time while camping, but also save a bit of money on things like pricey packaged backpacking meals?
Camping stoves have continually gotten smaller and more efficient, so packing one is not the hassle it used to be. They can work well for inexpensive food that lasts a while and can be carried for a week, like oatmeal, rice, and dehydrated vegetables for soups. They can also boil water to purify it.
 
Can you also talk a bit about how getting the best possible gear can save money in the long run? When is it best to save up a bit and get the right thing rather than the cheap thing?
There are some underlying tech improvements that have really made life easier. When you see photos of mountaineers from even 50 years ago, they had it tough. If there's going to be rain or snow, it makes no sense now to get hiking shoes that aren't waterproof, a jacket that won't hold up to a big storm, down fill that stays wet, or a camera bag that's not "bombproof" with sealed seams, for instance. Why have a cotton t-shirt that rubs against your shoulders and stays wet all day when you can get a merino wool one with flat seams that wicks moisture and is odor resistant? Why pack underwear that won't dry overnight after a sink wash?
When you do a little research on what's right for your adventure or a trip around the world, there are areas like this where spending a little bit more on the best item for the job will make you much happier later on. Plus, I've got ExOfficio travel shirts I've been wearing quite often over a period of six, eight, ten years. They still look good. So yeah, they were worth $70 instead of $30. The ones I paid $30 for are long gone.
 
Can you give an example of what kind of deals someone might find in the Insider Gear Deals newsletter?
That's a monthly newsletter where I highlight the best online deals, mostly limited-time offers and coupon codes that will give something like an additional 20% off of items already on sale at a retailer like Moosejaw or Sierra Trading Post. It points to semi-annual closeout sales from the likes of REI and Backcountry that can result in a 50% savings, plus some special seasonal offers from brands selling direct like Mountain Hardwear or Sorel.
 
What are some other useful places where someone might go to save some money on travel gear?
Brick and mortar retailers run closeout sales too, of course, and the best times are during the seasonal change-overs. Those happen earlier than you'd probably think: winter things go on sale as early as January (even though it's freezing outside) and summer things start going on sale in July.
Sometimes it's better to buy in person, as with shoes if you have an odd-shaped foot. Online, things are permanently on sale at the outlet sections of all the major outdoor and travel gear retailers. You can find some unbelievable deals there if you're not overly picky about what color you get.
Bio: Tim Leffel is an award-winning travel writer, the author of The World's Cheapest Destinations, and is editor/founder of PracticalTravelGear.com.
For more updates from Practical Travel Gear, like them on Facebook, and follow them on Twitter.