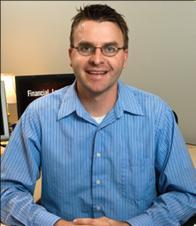 Eight years ago, Joseph Sangl was broke, with an average of about four dollars in his bank account. Being broke was threatening to tear his life and relationships apart, and Sangl resolved to do something about it.
Fast forward to today, and not only is Joseph Sangl no longer broke and still married, but he has become a respected financial advisor. He shares his experience, strength, hope, and financial guidance in his business I Was Broke. Now I'm Not..
Joseph Sangl talked to us about how he saved his marriage and tattered finances, and how anyone else can follow in his footsteps.
Can you talk about how you got started writing about finances? How has your life changed because of it?
I got started after I experienced a massive turnaround in my own personal finances. I was so excited about the results that I could not stop talking about it. In January 2006, blogs had really burst onto the scene, and I saw it as a great way to begin to share my experience and help others experience the same financial freedom.
You wrote a book called I Was Broke. Now I'm Not. First of all, were you broke, and how did you change that? Secondly, can you give us a brief overview of what's in the book?
I was broke. My bank balance literally averaged $4.13. I was contributing money to my retirement account, but every dollar that came home was in serious danger of being immediately spent. My turning point came when I changed employers in December 2002. I somehow forgot the fact that your previous employer will stop paying you when you leave them! I did not know my new employer's pay schedule. I had saved zero money. And it was Christmas! As a result, I made the poor financial decision to run up my credit cards again to fund basic living expenses and Christmas gifts. At that moment, I determined to change my financial future. My bride and I prepared a realistic budget for the first time and actually followed it. This simple act literally changed our financial future. It became our habit to plan our finances every month BEFORE the month began, and we agreed to follow the plan. In 14 months, we paid off all of our non-house debt (including student loans, our truck, and credit cards). In 10 years and 1 month, we paid off our house when I was 38 years old. During that time, we've also been able to start a business (named I Was Broke. Now I'm Not.) and purchase another business.
I Was Broke. Now I'm Not. chronicles our family's journey in the first three chapters. We then provide a "financial roadmap" of our journey that others can use to prioritize their next financial steps. I call this the "I Was Broke. Now I'm Not. Ladder." The rest of the book is focused on equipping individuals with the fundamental tools required to manage money - budgeting, debt elimination, investing, and insurance. Managing money is far simpler than most people make it out to be, and it was my goal to demonstrate this in the book.
You've also got three free new eBooks coming out soon about managing finances as a single parent or as part of a married couple. What are some things that normal people can be doing to get their finances under control? What are some non-physical effects that an out-of-control budget can have?
eBooks are awesome because they can be hyper-focused on a particular topic. During financial coaching sessions, I always begin with this question: "What are your plans, hopes, and dreams?" I start here because I believe we should allow these plans, hopes, and dreams to inform our money decisions - not the other way around. Most people are stuck in the "my finances are horrible so what's the point of dreaming" mode. Once they have documented several of their life goals, I help them prepare a monthly budget. The monthly budget is key to maximizing money and ensuring progress toward the funding of a dream.
A person with out-of-control finances experiences more stress. Studies have shown them to be less productive at work. They also have to spend extra time and money "fixing" financial mistakes - like shelling out late payment fees or spending time in conversations with creditors. They are far less likely to accomplish their plans, hopes, and dreams. Even more, they may give up entirely on dreaming and attempt to "just get by." Life is too short to live this way - plus, we only get one life!
Out of control finances can also damage relationships. I commonly see relationships between spouses destroyed by financial mismanagement or financial infidelity (hiding spending or debt from their spouse). It is also common to see parent-child, sibling-sibling, and friendships destroyed because of a person's financial instability and poor decisions.
It is common for a person with out of control finances to believe that "more money" will fix their problems, so they begin to work more hours or get a second job. This costs them time and energy and can really have a negative effect on their family - particularly when they are married and have children.
It is your mission "to help people accomplish far more than they ever thought possible with their personal finances." How do you help them do that, and what have been some success stories you've had?
I believe most people are one or two key decisions away from completely changing their financial future. However, most people do not wake up saying, "Yes! I get to budget today." or "I'm so excited to speak with my insurance agent today!" Every day, I attempt to help people see that money management does not have to be scary, and in fact, it can be a lot of fun. We provide over 100 free financial tools through our website. I've also provide practical personal finance tips and stories via my blog at www.josephsangl.com I've also written other books focused on helping young people win with money (What Everyone Should Know About Money Before They Enter The Real World) and another book focused on investing and the importance of diversification (Oxen: The Key To An Abundant Harvest). I also speak on the topic at churches, businesses, and conferences nearly 120 times a year throughout the United States and Canada. I have also developed a 12-month intensive financial training course called the "I Was Broke. Now I'm Not. Core Coaching Program" that allows our teaching to go to a much deeper level than a book or speaking event could go.
We also offer free online live teaching like our recent "Upgrade Your Finances" event.
We have too many success stories to count! Mark had $85K in non-house debt when he and his wife met with me for financial coaching in 2006. In less than three years, they paid off all of this debt. In fact, their church did a great video story on their journey.
We also ask people call us when they become debt-free and shout WOOO-HOOO into the phone. This happens all of the time in our office, and we celebrate knowing it is a real reminder of the impact we are having on people's lives.
You've written another book called What Everyone Should Know About Money Before They Enter The Real World. What SHOULD everyone know before entering the real world? What are some specific challenges facing young people today?
Everyone should know that WRITTEN plans, hopes and dreams are much more likely to happen than those that are UNWRITTEN. They should also know that PLANNED money accomplishes far more than UNPLANNED money. Every young person should clearly know how compound interest works. They should also go to college for the job they want, not because they love the school. It is important for them to graduate in four years for a four-year degree (not five or six) not only because of the increased costs of additional years of education, but also the income lost by not being able to work.
One specific challenge young people face today is competition for employment from experienced employees who lost employment during The Great Recession. Many young people are also strapped with student loan debt that will accompany them for the next 20 years or longer.
Many young people are not taught about money management by their parents or in school. As a result, they enter into "the real world" having little knowledge of budgeting, credit scores, investing, insurance, or taxes. This puts them at a great financial disadvantage.
How has writing about money and teaching other people affected the way you approach your own finances?
It has brought great clarity to my own personal financial management. The hundreds of thousands of people I have taught also bring an enormous amount of accountability!
You offer individual financial counseling as well. What are some of the things that you go over with people during a consultation?
About 75 percent of our meetings are focused on helping them prepare a budget and calculating their debt freedom date - the time it will take for them to become debt-free - with and without their home mortgage eliminated. The other 25 percent is a mix of crisis management (lost job, overwhelming bills, pending divorce, etc.) and longer-term planning (pre-marital financial coaching, investing, insurance, etc.)
There is an extensive section of financial tools on your site. What are a few invaluable resources that everyone should be using?
Everyone should use one of our free budget tools, one of the Debt Freedom Date Calculators, and our financial calculators. One of the fun tools we receive a lot of feedback on are our "Debt Pay-Off Spectaculars" where people can visually track their debt elimination progress.
What are some things that people can be doing in their daily life to help them save money and get out of debt? How possible is it to enjoy yourself while doing so?
Use cash for "impulsive" spending categories like food (groceries & dining out), clothing, entertainment, and spending money. The principle goes like this: (1) Plan your spending BEFORE the month begins, (2) When paid, pull cash out of the bank for these "impulsive" categories, (3) Only use cash for these spending categories (no debit or credit card), (4) When the money is gone, the spending is over until your cash is replenished with the next budget/payday. This principle prevents overspending, which is very common in these categories.
Another great tip is, for a given amount of time (not forever), eliminate a daily expense - like coffee, a newspaper, or lunch at a restaurant every day (pack a lunch). Or eliminate a monthly expense for a period of time like cable, Internet, a gym membership, or a newspaper/magazine subscription.
It is actually a liberating experience to do this! I canceled cable TV and discovered there were people in my house! And we actually talked to each other! It really revealed the amount of time we were wasting on non-shared activities.
And I can say without reservation that the results have been truly amazing. Being able to eliminate all non-house debt and paying off the house by age 38 have positioned us to prosper like we've never dreamed.
What have been some of the most memorable moments of your financial career? Do you ever get to hear how you have helped improved people's lives?
Paying off my credit card and realizing they owed me 26 cents! Paying of all of our non-house debt in February 2004. Paying off my house in January 2013. Starting and growing a business with zero debt.
I get to hear stories all of the time, and it is one of my greatest joys! After all, this is not just a business for me and our team. This is a passion. We know that we are helping people change their lives. It is changing the lives of their children. I say it all of the time - I can't believe I get to do this for a living!!!
Out of control finances can (and do) add unnecessary stress to our life, taking their toll on health, personal relationships, and every other aspect of life. For more guidance and inspiration, like I Was Broke Now I'm Not on Facebook and follow us on Twitter.