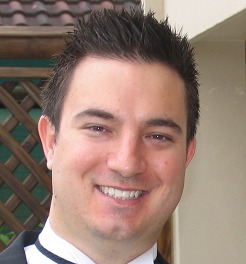 If you've ever considered trying your hand at forex trading, now is a great time to start your trading career since there is no shortage of opportunities, says Nial Fuller, CEO and founder of the web's foremost trading education community - Learn To Trade The Market.
"We have entered an extremely volatile and trending period for many major currency pairs, with most currency pairs moving around twice the daily range in comparison to just a few years ago," Nial says. "This renewed market volatility and trending conditions are a trader's best friend."
We recently checked in with Nial to find out what excites him about forex trading and to learn some of the basics. Here's what he had to say:
Tell us the story behind LearnToTradeTheMarket.com.
After walking the journey of a novice trader myself for many years, I quickly became frustrated with the trading education industry charging high prices and delivering worthless information to traders. When I mastered my own trading and turned professional, I felt compelled to share my knowledge and experiences with others. In early 2008, I founded Learn To Trade The Market with the core vision to offer frank and honest education to aspiring traders. Since launching, the site has became the most followed trading blog on the web, with hundreds of thousands of readers and a current membership of 15,000+ students.
What services do you offer?
We offer Trading Education Courses on Price Action Trading, A Daily Trade Setups & Market Commentary Newsletter, Live Trading Discussion Forum and Traders Email Support Line.
When did you become interested in forex trading? What excites you about it?
I was introduced to share trading at the age of 16 and quickly progressed to cfd's, futures, forex and other derivative markets in my early 20s. Like most who start off trading, the idea of making large sums of money with a low starting capital base certainly appealed to me; but over time, trading became a real passion, and I started to approach my trading like a competitive game of chess. When I started to forget about money and focus purely on my craft, my trading career accelerated.
What sort of person makes a good forex trader? Who might not be suited for this sort of trading?
People who enjoy learning and analyzing repetitively will start with an advantage; however, there is no stereotype that is more suited to trading. It really comes down to trying it and seeing if it fits your personality. Given trading carries risk, a person who struggles emotionally taking risks won't do well. It may surprise some people to learn that women often make great traders; but there is also less of them as males outnumber females by 90 percent or more. Some of the best traders I have met are eccentric personalities with no formal education and come from disadvantaged backgrounds. This is a game that tests every human emotion, so it's no secret that the best traders are extremely disciplined, unemotional and consistent in the way they approach trading the market.
How does forex trading differ from trading stocks?
When you trade or invest in stocks, you are taking fractional ownership in public companies. Forex Trading is the speculation on the rise or fall of one country's currency against another.
Unlike shares, where a trader invests $1 to obtain $1 of equity in the company, a forex trader can invest $1 and control $100 or even $500 worth of countries' currency (leverage). This naturally increases risks, but also increases potential gain.
What are the advantages of forex trading?
Leverage each $1 into $100 or more
Lower starting capital required to start trading
Less currency pairs to consider versus thousands of stocks/companies/other markets
Constant market volatility providing trading opportunities almost every day
What are some rookie mistakes you see a lot of forex traders making?
Failing to educate themselves properly
Trading on a live account too soon
Risking money they simply don't have or can't afford to lose
Over trading (effectively gambling on too many trades too frequently)
Thinking only of the rewards and ignoring risks
What's the biggest lesson you've learned over the years?
To trade infrequently and trade with conviction when the right opportunity presents itself.
What are your favorite tools for forex trading?
A raw price action chart is the only tool I use to forecast price movements and make trade entry and exit decisions.
Nial Fuller is the CEO and founder of Learn To Trade The Market. Connect with Nial on Google+, Facebook, Twitter and LinkedIn.